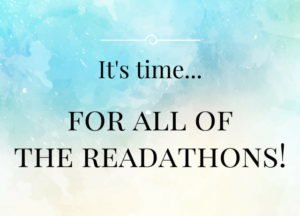 Is your giant to-read pile stressing you out? Do you suffer from the terrible affliction of checking out or purchasing a stack of new books despite having a full shelf at home?! You are not alone, my friend, but there might be a way to tackle that mountain of materials. Take your reading to a new level, and challenge yourself with a read-a-thon!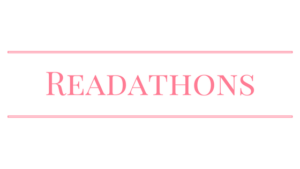 A read-a-thon is a community-driven attempt to read books during a set amount of time. Read-a-thons can last for 24 hours, a few days, a week, a month, or even an entire year. They're hosted on a social media site like YouTube, Twitter, Goodreads, or Tumblr and never cost or require sign-up. Read-a-thons also may have challenges, sprints, and even contests or giveaways. Participants interact through the internet platform, and some will even post a wrap-up blog or video to showcase their results.
Recently I posted about my experience with the Biannual Bibliothon, and I have taken to exploring online read-a-thons to decrease my ever-flowing TBR pile, prioritize reading, and push my speed. There are so many read-a-thons out there with themes as specified as your reading tastes. You can find a read-a-thon for Harry Potter, science fiction, fantasy, Young Adult literature, graphic novels, classics, and more.
A YouTube creator, LittleBookOwl, has developed an amazing calendar with links to individual read-a-thon websites. Not all read-a-thons have announced their 2018 dates, but many are already scheduled that you can follow.
LittleBookOwl also released a video covering read-a-thons and organized them based on their length.
Interested in participating? All you need to do is find a read-a-thon that interests you, do a little research using the calendar to find the start and end dates and any specific challenges, and you're set!
Here are a few Read-A-Thon tips:
1. Plan Your Books
Whether it's a week-long challenge or just 24 hours, definitely go into the read-a-thon with a plan of what you're going to read. Many read-a-thons have specific challenges that can guide what books to choose so it helps to have an outline of those books and to make sure you have access to them.
2. Prioritize
The read-a-thon is an actual challenge. It forces you to put down your phone, log off Netflix, and actually get to reading. Even with cutting out social media, it still can be hard to find time to read, especially with work, school, or if you're around children. Before the read-a-thon starts, look ahead to that week in your schedule and plan your reading time. Even if it's twenty minutes in the day, that's still a book being read!
3. Audiobooks
Reading doesn't have to be just for your eyes. It can also be for your ears! Consider the time you spend in the car or bus, the time doing menial tasks like dishes or laundry, or the places you are where reading a book would be difficult. Use that time as listening time, and you'll bust through a book without even realizing it!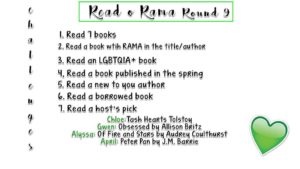 Read-a-thons are an awesome way to connect with other readers and spice up your reading in a new way. The next read-a-thon I'm going to tackle is the week long Read-O-Rama challenge from March 3rd – 9th.
Feel free to join me! I'll be posting my wrap-up next month to share all the craziness.