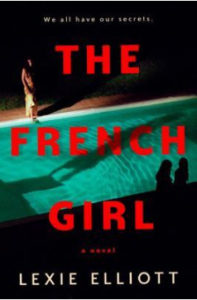 Feb. 20: The French Girl by Lexie Elliott
Six close friends from Oxford spend what they hope will be the perfect summer getaway together in a farm house in France. And it is, until they meet the girl next door — Severine. For Kate, Severine is an unwelcome presence, who undermine's the groups loyalties. Kate knows that after a huge blow-up on the last night of the the holiday, that things are not ever going to be the same. Some actions are unforgivable and some people are unforgettable, even if they are never seen again. But a decade later, Severine's body is found. Suspicion begins to swirl around Kate, who finds herself buried in deception and has no one to help her get free.
Feb. 20: The Woman in the Water by Charles Finch
The latest in Charles Finch's Charles Lenox mystery series takes the reader back to Lenox's first case in 1850. Lenox is struggling to make a name for himself as a private detective, and Scotland Yard refuses to take him seriously. An anonymous letter sent to the newspaper is from a person who claims to have committed the perfect crime, and in the letter they promise to kill again. Lenox believes this is his chance to prove himself. The killer's sights end up set on those closest to Lenox, and he ends up in a deadly game of cat and mouse.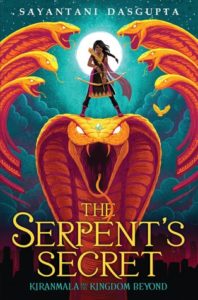 Feb. 27: The Serpent's Secret (Kiranmala and the Kingdom Beyond #1) by Sayantani DasGupta
Kiranmala is just a normal New Jersey sixth grader when she wakes up on her 12th birthday. Then her parents disappear and a demon blasts through her kitchen trying to eat her alive. Her parents had often told Kiranmala fantastical stories — like that she was really an Indian princess. Then, two swoon-worthy Indian princes show up at her door trying to rescue her. Now she's sucked into another dimension: one full of magic and mythical creatures and magical maps. She has to solve riddles and avoid demons and try to avoid the things that want to kill her, while trying to find her parents and basically save New Jersey.
Feb. 27: The Shape of Water by Guillermo del Toro and Daniel Kraus
Typically, the movie comes after the book, but in this case it's the other way around. The highly rated movie, which is still out in theaters, was released a couple of months ago. Critics have said that director Guillermo del Toro was "at his visually distinctive best" with this film. He has joined forces with author Daniel Kraus to tell this love story in novel form. Elisa Esposito is mute, and works as a janitor in a research center in 1962. One night she sees a creature she isn't supposed to, and it eventually becomes her sole reason for living. io9 says in its review that the movie and the book tell this spectacular story in two very different ways.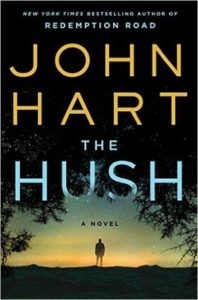 Feb. 27: The Hush by John Hart
This book takes the reader back to the world Hart introduced in The Last Child. But you don't have to read that book before you read this one. Johnny lives alone, 10 years after the events that changed his life. Books have been written about his exploits, and people are curious, but Johnny works hard to maintain his privacy. His one connection to his past is with his childhood friend, Jack. Jack senses danger in the lands Johnny lives on, but Johnny doesn't want to discuss it.