Over the six years I have been working here at the library I have found so many things to love.  One of those is audio books.  I listen to them on my phone and in my car.  I have such a long list of books to read that listening has helped knock a few off.
My favorite series to listen and relisten to is Harry Potter.  The narrator, Jim Dale, is wonderful.  He has different voices for each character.  He brings the story to life and makes for a very enjoyable road trip.  I recently picked up book three, Harry Potter and the Prisoner of Azkaban, for the umpteenth time.  Each time I read/listen to it I find little things I missed before and I love it even more after each read.
*Beware of spoilers if you have not read Sorcerer's Stone and Chamber of Secrets.*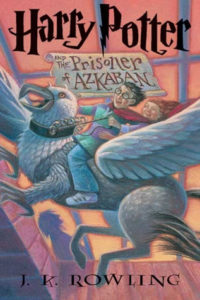 Harry Potter and the Prisoner of Azkaban by J. K. Rowling
First line: Harry Potter was a highly unusual boy in many ways.
Summary: Harry Potter is in this third year at Hogwarts.  He is the boy who lived.  He defeated the Dark Lord.  However, when Sirius Black escapes from Azkaban he finds himself once more in danger.  As the Dementors surround the school, Harry's school year proceeds as normal with Quidditch and classes until he learns that Black is coming to kill him.
Highlights: Harry Potter and the Prisoner of Azkaban is my favorite of the series!  I have loved it since the first time reading it.  I have reread it numerous times.  I think one of the main reasons is that it is a little different from the rest of the books.  Voldemort does not play a strong role in the story and we learn more about what happened on that fateful Halloween night.  What happened to Harry's parents?  Who were they?  They became more fleshed out.  They had friends.  They went to Hogwarts.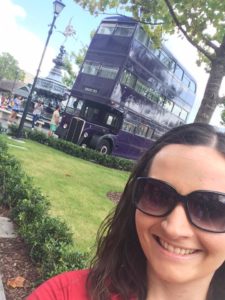 Rowling builds so much of the world in this book.  The Knight Bus alone is pure genius.  I love Ernie and Stan.  I was so excited that Universal Studios even has a replica of the Knight Bus outside Diagon Alley.  In addition, we get to spend more time in the wizarding world.  Harry explores more of Diagon Alley and visits the town of Hogsmeade.  While reading I wanted a nice hot cup of Butterbeer.  I've had the iced version at Universal but warm sounds rather tasty as well.
There are many new characters and each of them adds to the story in their own ways.  Even the animals like Buckbeak and Crookshanks.  I love the character of Sirius Black.  He is very complex.  I do not know what it is that draws me to his character but he is always my answer for my favorite character.  Plus, Remus Lupin is hands down the best Defense Against the Dark Arts teacher.  The lesson with the boggarts is lots of fun to read.
 Lowlights: Nothing.  This book is FANTASTIC!
 FYI: Check out the audio book voiced by Jim Dale.