Learning about the lives of important figures in history is just fascinating.  Over the years I have started picking up more biographies because of my love of historical fiction.  Nonfiction has a bad reputation as boring.  This is not always the case.  Many nonfiction books now are reading almost like fiction.  They flow well and tell a great story.  I laughed out loud while listening to Tina Fey read her biography, Bossypants!  I was shocked while reading, A Stolen Life, by Jaycee Dugard.  I cannot wait to listen to the upcoming autobiography, Becoming, by former first lady, Michelle Obama.  Everyone has a story to tell.  Browse through our biographies (92s and 920s) and see what catches your eye.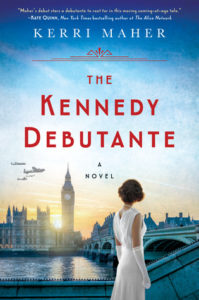 The Kennedy Debutante by Kerri Maher
First line: Presentation day.
Summary: In her debut novel, author Kerri Maher introduces us to Kathleen "Kick" Kennedy. She is the second oldest daughter of Ambassador Joe Kennedy Sr. While living in London Kick does everything a good debutante is supposed to do. She attends balls, is presented to the King and socializes with the aristocracy. However, she wants something more. When she meets Billy Hartington, the heir to the dukedom of Cavendish, she finds what she has been looking for. Their dreams are derailed when Hitler invades Poland and Kick is sent back to the United States. She becomes even more determined to return to England and the man she loves even if it means defying her family and her religion.
Highlights: A fantastic example of biographical fiction! Everyone in the U.S. has grown up hearing about John F. Kennedy and his family. However, I had never heard of his sister, Kathleen. I was fascinated by her story. She was a young debutante who was practically American royalty. She lived in England and fell in love with the heir to a dukedom. Her life though was not perfect. She had many struggles in her life.
My heart broke for her when her family and society were against her relationship because she was Catholic and he was Protestant. The author does a great job of bringing her confusion and inner battles to the reader. I cannot imagine how hard it must have been for her to make a choice between the man she loved and her family. I liked this look into the life of the Kennedys. Her parents were very strong willed and wanted their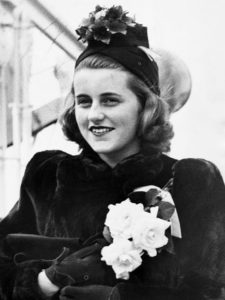 children to achieve great success, which several of them reached. Kick became the rebellious one who followed her heart.
"At the end, she said, 'I just don't know what to do.  It's all mixed up in my head–my mother, my father, his mother, his father, my religion, his religion, my heart.  I don't know what to listen to.  None of them agree.'"
I was nearly in tears (which rarely happens) while finishing this book. The family became so real on the pages and their heartbreaks became mine as well. This was wonderfully researched and written. I cannot wait to see what Kerri Maher writes next!
Lowlights: While I appreciated the insight into Kick's years of separation from Billy and the personal struggle to come to terms with what life with him would entail, I felt that it stretched out a little too much. For several chapters we watch as she continues to debate and think about her choices. I felt that this made us understand how important it was but at the same time, it slowed the plot down.
FYI: If you love the Kennedys or World War II historical fiction than I would highly recommend this!