It has been just over one week since the start of the Forbidden Forest Read-a-thon here at the library. And boy has it been one heck of a week. You do not realize the pressure you are under when you are given a set number of books to read in just a month! It is a little intimidating.
Going into the challenge I figured that this would be a piece of cake. I have already read over 100 books this year. Twelve books should be easy right?! I have finished three at this point which is a fairly good place to be but they were the shorter ones. Several on my list are hovering around five hundred pages. Yikes! Maybe I was overly ambitious but I am determined to finish this challenge.
So far I have finished reading A Little Princess by Frances Hodgson Burnett, We Have Always Lived in the Castle by Shirley Jackson (we own the movie but not the book) and The Umbrella Academy: Apocalypse Suite by Gerard Way. Each has had their ups and downs but I would say my favorite so far has been The Umbrella Academy graphic novel. I have even read book two and have three on my desk for later.
The Umbrella Academy: Apocalypse Suite by Gerard Way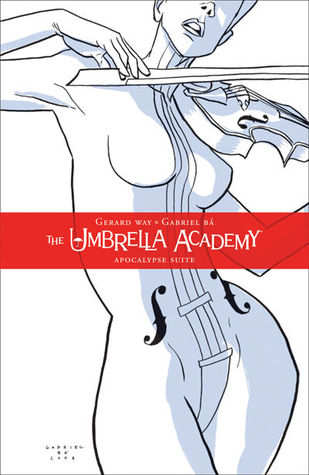 First line: It was the same year "Tusslin' Tom" Gurney knocked out the space-squid from Rigel X-9…
Summary: At the exact same moment forty-three babies were born to women who had previously not been pregnant. Of the forty-three newborns born, seven of them were adopted by the eccentrically wealthy Reginald Hargreeves. He knew that there was something special about these children. For years they lived quietly hidden away in his mansion until one day when they reappeared in order to save the world. They called themselves The Umbrella Academy.
My Thoughts: I am not one that is much interested in graphic novels but they are slowly growing on me. I have now read a handful and started to enjoy them. The Netflix show based on the graphic novels is why I chose this book for the reading challenge. There are many similarities between the two but lots of differences as well. Each stand well on their own. The art is very interesting to look at. It is not realistic but it is not too cartoonish.
I liked the story because it is dark and imaginative. The authors create such an interesting world that it is not hard to get sucked into it. One of the characters, Number One or Luther, is part man and part ape. He is gigantic and spends quite a bit of his youth on the moon. Who thinks this stuff up? It is different which makes it fun. I am looking forward to book three and on.
FYI: There is a lot of violence which did not affect me at all but it may be too much for younger readers. This is book one in the series.