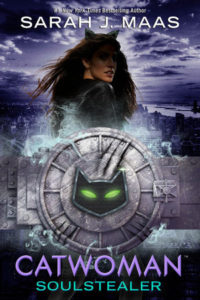 Catwoman: Soulstealer by Sarah J. Maas
First line: The roaring crowd in the makeshift arena didn't set her blood on fire.
Summary: Selina Kyle lives in the slums of Gotham City. In order to take care of her ailing sister she enters the underground-fighting ring of Carmine Falcone. However, when the chance for a better life for her sister comes along she takes it even if it means she has to sacrifice everything. Two years later, she returns to Gotham in order to bring her own brand of justice to the city that let her down.
Batwing, the secret identity of Luke Fox, is doing his best to keep the streets of Gotham safe for its people. When a new villain arrives and starts wreaking havoc on the city, he realizes that he may have met his match in Catwoman.
Highlights: Sarah J. Maas is one of my favorite young adult authors. She writes great stories with interesting characters and lots of action. I have never been a big fan of Catwoman (other than in the show Gotham) but since Maas was writing her story, I decided to give her a try. I am glad I did.
We get a backstory for Selina that helps flesh out her character and give her a reason for her villainy. This is one of the reasons I have enjoyed the TV show Gotham because we get to see how our villains came to be. I loved the inclusion of Harley Quinn and Poison Ivy as her sidekicks/cohorts. Their brand of chaos and camaraderie was fun to read.
I had never heard of Batwing and therefore had to Google his character. Even though I have seen most of the movies and TV shows in the DC universe there is still so much I do not know. I am slowly wanting to pick up some of the graphic novels and comic books here at the library and get to know the stories better. I am looking forward to the next in the DC Icons series, Superman: Dawnbreaker, coming out in March 2019.
Lowlights: I wish we could have gotten more of the Joker. He is mentioned several times and Selina met him once. He is such an iconic DC villain and with Harley in the story, it would make sense. But maybe one day we will get a Joker book?!
FYI: If you like this try Wonder Woman: Warbringer by Leigh Bardugo and Batman: Nightwalker by Marie Lu.