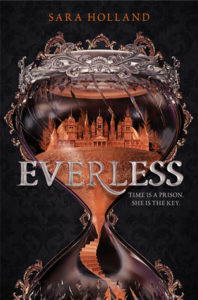 Everless by Sara Holland
First line: Most people find the forest frightening, believing the old tales of fairies who will freeze the time in your blood, or witches who can spill your years out over the snow with only a whisper.
Summary: In a world where blood is time and time is currency, resides Jules Ember. She is a young girl determined to save her father's life by returning to the Everless estate in order to earn more blood irons (the currency that can add days to years onto a persons life). However, when her father dies at the gates of Everless Jules becomes entangled in a mystery about her past and the family she has been serving.
Highlights: The idea of blood being transformed into currency but can also be consumed to add more time to a person's lifespan is very intriguing. I never would have considered this premise but it is fascinating to think about. I liked the twist at the end. I figured out several pieces but many of them were great details that added to the mystery. This is a typical dystopian YA novel but it still feels fresh and new.
Lowlights: Being a reader of YA I could easily predict several plot points.  There are similarities to books such as Red Queen by Victoria Aveyard.
FYI: Book 1 in a series!