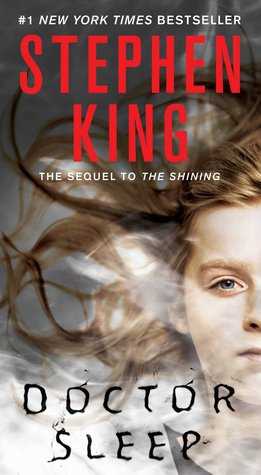 First line: On the second day of December in a year when a Georgia peanut farmer was doing business in the White House, one of Colorado's great resort hotels burned to the ground.
Summary: Danny Torrance was five years old when his life changed. He has spent years trying to hold back the psychic power called "the shining". Many of those years were spent as a drunk barely surviving as he drifted from place to place until he stops in a small New Hampshire town. He receives a chance by several local men, giving him a new lease on life. As he cleans up his life he finds his purpose in live, working at a hospice, helping the patients pass on earning the nickname Doctor Sleep by the staff.
But when he starts to receive messages from a little girl who also has "the shining" he finds his world once again turned upside down. As he and Abra learn more about this mysterious group of nomads looking for people like them, they have to figure out how to stop them once and for all.
My Thoughts: I love this book! It is completely gripping from the very beginning. We all know the story of the The Shining. It is one of Stephen King's most famous novels. This is the continuation of that and it does not disappoint. I read this while tightly gripping the pages. With every page things went from bad to worse.
King does an amazing job providing imagery for his readers. I could easily picture the ghostie in the bathroom, Rose the Hat and Teenytown. He can build a story slowly but make it so engrossing that you cannot stop reading.
I enjoyed finding out what happened to Danny after the events in Colorado. I felt for him as he tried to quiet his demons. I loved his interactions with the patients at the hospice. There were several twists that I never saw coming and I literally gasped as I read them. This book will leave you on the edge of your seat and keep you wanting more.
FYI: Now a movie starring Ewan McGregor! I cannot wait to see it.