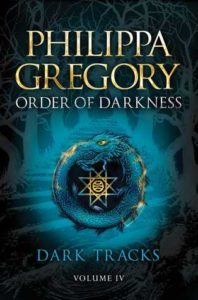 Dark Tracks (Order of Darkness series)
by Philippa Gregory
First line: There was an angry bellow from inside the woodcutter's hovel; the woman, struggling up from the stream with a heavy bucket of icy water in each hand, raised her head and shouted back.
Summary: In the fourth installment of Philippa Gregory's young adult series we follow Luca, Isolde and their companions on their journey. As they stumble into a small village, they find the townspeople besieged by a troupe of dancers. However, these are no ordinary dancers. These dancers seem to be possessed. What is causing this dance sickness and how can it be cured? These are just a few of the questions Luca wants to find out. But when Isolde is taken by the dancing fever the need to find a cure becomes even more important.
Highlights: I have really enjoyed Gregory's young adult novels. She is my favorite author. Her historical fiction is amazing. She does a great job of describing the time. This is a great way to get younger readers interested in the past. Even as an adult, I learn new bits of information with each story. I also really like the covers. But if you have read my other reviews you know how much I love a good cover!
Lowlights: These are definitely for young adult. They are not as in-depth and detailed but still gets the story told in a fun and interesting way.
FYI: This is book 4 in the series. Check out her other books (Changeling, Stormbringers, and Fool's Gold) before reading this one!