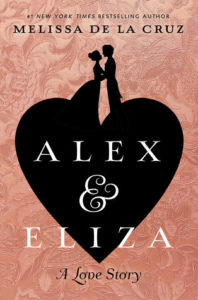 Alex and Eliza by Melissa de la Cruz
First Line: Like a latter-day Greek temple, the Schuyler family mansion sat atop a softly rounded hill outside Albany.
Summary: Eliza Schuyler is the daughter of a wealthy general.  Alexander Hamilton is the right hand man of General George Washington.  When the two meet at Eliza's home, the first encounter is not the one of fairy tales.  However, when they meet up again several months later their friendship grows and a romance for the ages is born in the midst of the American Revolution.
Highlights: This is a very quick read and great for a first book about Alexander Hamilton.  With the popularity of the musical, Hamilton, this book is appearing at just the right time.  I know very little about the man who had a key role in the establishment of our country.  I am a huge fan of Melissa de la Cruz.  I think she does a good job of bringing this story to readers in a YA version.
Lowlights: The book is almost more juvenile than YA usually are.  I expected a little more surrounding the war.  I do plan to read the next one as well.
FYI: Perfect introduction into the story of Alexander Hamilton.