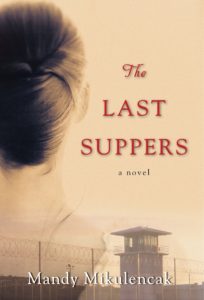 Many children have grown up in the shadow of Louisiana's Greenmount State Penitentiary. Most of them—sons and daughters of corrections officers and staff—left the place as soon as they could. Yet Ginny Polk chose to come back to work as a prison cook. She knows the harsh reality of life within those walls—the cries of men being beaten, the lines of shuffling inmates chained together. Yet she has never seen them as monsters, not even the ones sentenced to execution. That's why, among her duties, Ginny has taken on a special responsibility: preparing their last meals.
I found this book to be beautiful is so many ways. The relationships between the characters, the shifting of perspective, the atmosphere and most importantly the FOOD! Even something as simple as making biscuits seemed calming and magical the way Mikulenacak describes it.  The detail I enjoyed most about this book was finding all of the recipes listed throughout the story in the back of the book. None of them of anything fancy, just southern comfort food but that's what makes them even more irresistible! I never thought I'd want to make something call Pork Neck Stew so bad in my life! However, if you read this book and still aren't enticed to make the stew rest assured there are several other recipes I'm sure you will enjoy.
Also, I found this article/interview with Mikulenacak I think you might want to take a peek at.
If you make any of the recipes in the book let me know how they turn out!!

Latest posts by Dawn Best
(see all)