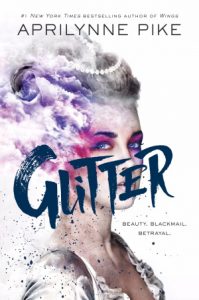 First Line: I rush through the catacombs, my face shrouded beneath the brim of a cap, skimming by the empty eyes of ancient skulls.
Summary: Danica lives in Versailles; the palace built by Louis XIV, wearing gowns and waited on by servants. The twist is the story takes place in the near future. As Danica tries to escape life at the palace and an engagement to the King of Versailles-Sonoma she has to go to drastic measures to buy her freedom. Glitter, a new drug, is going to be the key. Selling it to the other inhabitants of the palace seems harmless enough until she starts seeing the consequences of her actions on her friends and family.
Highlights: The cover is beautiful. This is what drew me to the book initially but I was shocked by how much I liked this book. The story is consuming. I read this in a few days because I had to know if Danica was going to be able to escape. It felt like a mix of historical fiction and Cinder by Marissa Meyer.
Lowlights: The reviews on Goodreads are not very favorable but I think if you give this book a chance and remember it is YA you will enjoy it. The plot is a little farfetched but I think that is the appeal.
FYI: Drug use and a little sexual content.