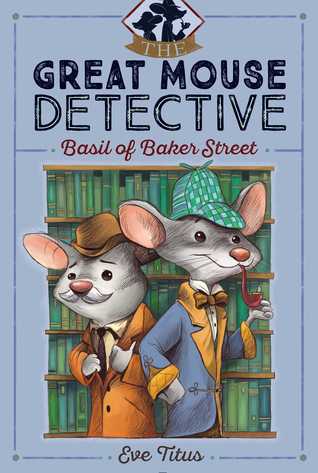 First line: The mystery of the missing twins could never have been solved by an ordinary detective.
Summary: Living in the cellar of 221B Baker Street is the legendary mouse detective, Basil. He and his companion, both admirers of the famous Sherlock Holmes, spend their time solving mysteries in the mouse world. When two young mice twins disappear it is Basil that the community turns to. As he searches for clues he discovers that it is none other than the Terrible Three. With his faithful companion by his side the travel to the English shore to find and return the missing twins.
My Thoughts: Summer reading at the library started this week! It is always a busy and fun time here at the library. To start off the summer I picked a children's book for my review.
This is the first story in The Great Mouse Detective series by Eve Titus. It was the inspiration for the movie of the same name by Disney. And also happens to be one of my favorite Disney movies. It was a cute story and lots of fun for young readers. It will definitely be a gateway for kids into the world of Sherlock Holmes. I liked that the book had illustrations. The author even gives a list of characters at the beginning of the book. I think this will appeal to younger readers. I would definitely recommend this to young patrons looking for a good and clean mystery.
FYI: Originally written in 1958.
*This is my pick for category #4 (A speed read (less than 100 pages)) for the ReadICT challenge.*