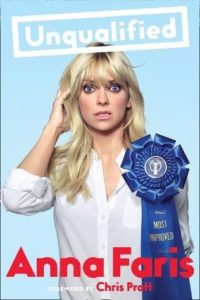 Unqualified by Anna Faris
First line: I'm not qualified to write a book.
Summary: Anna Faris, actress and the host of a podcast, is writing her first book. She details her life, career and advice she has for her podcast listeners. Written in an informal style, as if she is talking to the reader. Her wit and sense of humor comes through in her writing.
Highlights: I have been a fan of Anna Faris for many years. I have seen most of her movies and always make time to watch her TV show, Mom. She is funny and heartfelt. However, she is very truthful about the struggles of life in Hollywood and in the public view. I like her even more after reading this. She may be unqualified but she does a great job!
Lowlights: It was a little hard to read after the recent announcement of her separation with her husband, Chris Pratt. I also felt like some of the conversations from the podcast seemed a little out of place. I understand that it makes it easier to fill some pages and cover topics that she has already covered on the show.
FYI: Good for a chuckle. Very honest.