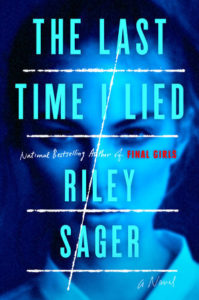 The Last Time I Lied by Riley Sager
First line: This is how it begins.
Summary: When Emma Davis is asked to return to Camp Nightingale it brings many memories and fears to mind. One summer, fifteen years before, Emma was a camper at Camp Nightingale and the three girls from her cabin all disappeared. Now as an artist on the rise, she continues to paint the missing girls Vivian, Natalie and Allison. Maybe going back will help Emma get past her demons and find out what truly happened to the girls of Dogwood cabin.
"I want to go inside, look around, see what memories it dredges up. That's why I'm here, after all. Yet when I twist the doorknob, I realize my hand is shaking. I don't know what I'm expecting. Ghosts, I suppose."
Highlights: Sager's latest novel is one of nostalgia for me. Having attended a summer camp near a large lake and cabins with no AC, this brought back many memories for me. The uncomfortable nights where everything is hot and sticky, canoeing on the lake, campfires and crafts. My sister, my cousins and I attended Quaker Haven Camp in Northern Indiana for two summers. We loved every minute of it. We made friends, crafts and memories. Even at church camp, you hear the stories of some creepy man that stalks the woods or a ghost that kidnaps children. This is what summer was as a kid at camp.
I could picture Camp Nightingale as clear as day. As Emma looks deeper into the events of fifteen years before she slowly reveals more memories that she has kept hidden. The author leads us in many different directions to keep us guessing. I loved the mystery of the lake. With each new tidbit, I was even more intrigued.
The ending was not what I expected. It wrapped up, we got the mystery solved but then…that ending! Holy cow! My chest was tight. My heart was pounding. I had to set the book down and breathe after the last page. The fact that Sager once again got a five star review from me is astounding. I cannot wait for his next book.
Lowlights: The only downfall was that I could not be reading this in a lawn chair on the shores of Dewart Lake in Indiana. That would have made this perfect.
FYI: This is the perfect book to take on a weekend trip to the lake!