The Visitors by Catherine Burns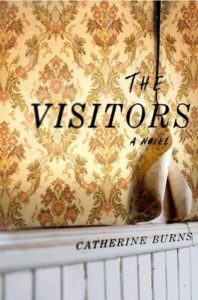 First line: Like a white bird, the scream flew up from the depths of the cellar, then became trapped inside Marion's head.
Summary: Marion, a spinster, living with her brother in their cluttered childhood home, is scared of the secret that is hidden in the cellar. When her brother has a heart attack, she has to face the reality of what he has been hiding. Told through flashbacks and snippets of their past lead you to believe that people are not always what they seem.
Highlights: A slow burning thriller. Little pieces of information are scattered throughout the book leading to theories. I kept thinking I had figured out who and what was happening but then I would second guess myself. Marion and John's relationship and lifestyle oddly transfixed me. Who are these people? How have they lived this long like this and no one has ever discovered their secret? The end leaves you with a sense of "what happened?" Very unsettling but in a good and spooky way. I had a very tough time putting this down.
Lowlights (or what could have been better): The only problem I found was I kept waiting for some big reveal at the end but it didn't come. But I wasn't really disappointed because I still am thinking about the story and the ending and wondering. Who is to blame? Who was the scarier of the siblings?
FYI: Not fast paced but worth every page.