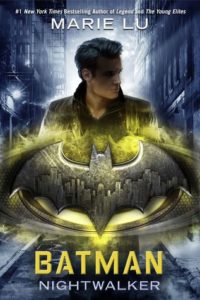 Batman: Nightwalker
by Marie Lu
First line: The blood underneath her nails bothered her.
Summary: As an eighteen-year-old Bruce Wayne is graduating high school and inheriting his families company and fortune he becomes entangled in the crimes of Gotham City. When trying to stop an escaped criminal Bruce lands himself on probation at Arkham Asylum. While cleaning floors he meets an elusive member of the group called the Nightwalkers, a group determined to kill the rich of the city and use their money to help the under privileged. Madeleine has been arrested for the murder of three prominent Gotham citizens but refuses to talk to the police. However, something about the young billionaire starts her talking. As Bruce gets more involved in the case, he sees that he could be in danger too.
Highlights:
"The darkness was his ally, not his enemy."
Batman was probably my first superhero. I remember watching Michael Keaton play the caped crusader and being a little scared of the dark plotline. I continued to follow the Bat of Gotham through the Dark Knight trilogy (Heath Ledger as the Joker—AMAZING). Now I currently watch the show, Gotham on Fox, which follows the younger years of Detective James Gordon, Bruce Wayne and the villains like Penguin and the Riddler. Lu's depiction of Bruce reminded me a lot of the boy in Gotham. She does a great job of bringing him to life and carefully crafting him into the superhero he is to become.
I really enjoyed the relationship between Bruce and Alfred his protector and guardian. It is one of my favorite parts from the movies and TV show as well. They have a bond that is deeper than blood. Alfred takes care of him but also has respect for the man he is becoming. At the same time though Bruce realizes that Alfred means more to him and that without him he would not be who he is. The story also touches on themes of the times. The struggle between the upper and lower classes, racial tensions and the need to equal rights for all. Batman is a symbol that something good can live in such a dark place.
"The world would always have the liars and traitors and thieves, but there were still those who were good at heart."
Lowlights: I missed not having the normal Batman villains. Madeleine was okay. Most of the Batman villains are flashy with lots of humor thrown in. She was smart but a little dull. I am looking forward to the villain story in Catwoman: Soulstealer by Sarah J. Maas later this year!
FYI: Check out Wonder Woman: Warbringer by Leigh Bardugo!