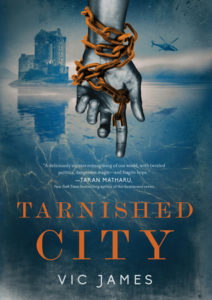 Tarnished City by Vic James
*May contain spoilers–see my review of book one, Gilded Cage.*
First line: Jenner reined his horse to a halt, and it stamped and snorted in the long blue-black shadow of the trees.
Summary: In a modern day Great Britain the powerful are called Equals. They have magical powers called Skill. And the common people live their lives just as we do except for each person is required to serve 10 slave years during their lifetime. Many are sent to the slave towns to work in factories but the Hadley family are assigned to work at a home of an Equal. However, when Luke kills the Prime Minister he is condemned and sent to the dreaded prison island for a lifelong punishment. His sister Abigail is determined to rescue her brother. She escapes and tries to find the other rebels who are intent on bringing down the Equal regime and end the slave days. Revolution has begun in Great Britain and it will be a battle to the death.
Highlights: This series reminds me of the Hunger Games. There is lots of action and drama. The characters are really well established. I hate Whittam Jardine almost as much as President Snow. I was deeply saddened by several deaths in the story. I was completely shocked when they happened that I gasped and had to take a minute to recover from them. If a book can make you do that, you know that you are invested in it. I keep having complicated feelings about Silyean. He is an interesting character that I cannot decide if I want to trust or not. When I was nearing the end the whole story sped up and it was like a marathon. I had to finish it and was exhausted at the end. It was great! I cannot wait till the author releases the final book to find out how the story ends, if I can trust Silyean and see if the Hadley's survive the revolution.
Lowlights: The magical powers of the Equal is called Skill. I felt like the word was over used at times. On several pages, the word is mentioned multiple times. As a reader of the series, we understand what they are doing. It does not have to be pointed out repeatedly.
FYI: Lots of violence.

Latest posts by Ashley Pohlenz
(see all)