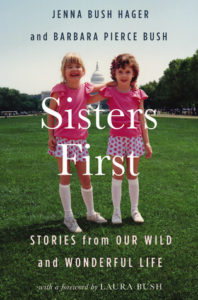 Sisters First: Stories From Our Wild and Wonderful Life by Jenna Bush Hager and Barbara Pierce Bush
First line: From the very beginning, before we could walk, before we could talk, Barbara and I were a pair.
Summary: Barbara and Jenna Bush are twin sisters. They are the children and grandchildren of Presidents. As the first daughters, they were in the media spotlight.  From being trailed by secret service to dodging the paparazzi they led hectic lives.  Through an alternating narrative, the sisters tell stories of their lives.  Plus a forward by former First Lady, Laura Bush.
Highlights: I listened to the audio version of this book and I loved it! Barbara and Jenna read it themselves. Hearing their stories from their own mouths was even more interesting. They discuss their most embarrassing moments and their highest triumphs.
The stories of their grandparents and parents were very endearing. I enjoyed hearing that these famous families are still just normal families. I laughed aloud listening to the struggles of Barbara trying to order a pizza. When you have the same name as former First Lady simple things can be a struggle.
My first election I was able to vote in was the 2004 race between George W. Bush and John Kerry.  When I first saw this book I knew it had to be one that I wanted to read.
Lowlights: The only lowlight I can think is that by listening to the audio book I cannot see any photos that are included in the book. I have Googled each sister in order to put faces to the stories.
FYI: Listen to the audio book on Libby by Overdrive!