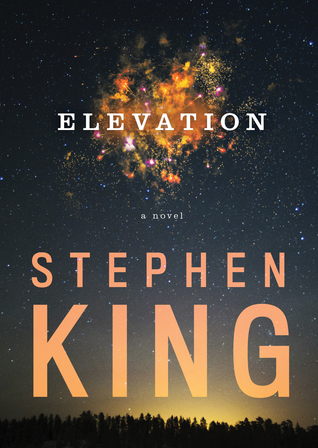 First line: Scott Carey knocked on the door of the Ellis condo unit, and Bob Ellis (everyone in Highland Acres still called him Doctor Bob, although he was five years retired) let him in.
Summary: One day Scott Carey noticed that he was losing weight but that his body was not changing. Each day brought on another weight loss. Even when he was holding something the weight was the same or less each day. There is no explanation for this strange occurrence. He has no interest in being a science experiment.
And this is not the only troubling part of Scott's life. He has a small feud with his neighbors. They keep letting their dogs use his yard as a bathroom. While Scott tries to mend fences he learns that sometimes it takes more than just a kind word or an apology.
My Thoughts: This is such a sweet little book. The story is creative and uplifting. It is unlike most of King's other works. It shows that he has a range of talents in writing. I sped through it in just a few hours. At the end I had to sit and reflect on the story for a bit to completely appreciate the story. I was not sure how it was going to end. I was a little shocked, saddened and happy with the ending. It was not what I was expecting at all.
I loved how the relationships changed in the story. How the characters evolved as the tale progressed even changing their prejudices. This is a wonderful read for anyone who likes a good story. If you need a quick book to finish off your reading goal for 2019 this should be it!
FYI: No ghosts, horror or mad dogs.