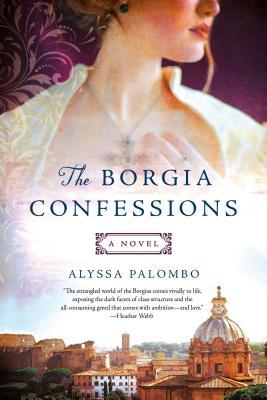 First line: The day I learned of my father's plans for me, I was but nine years old.
Summary: In the summer of 1492 in Rome Cesare Borgia sees his father rise to the become the newest pope. Cesare has been forced to follow his father into the church but he knows that he is destined for something more. He has a strong military mind and passion to rule. However, his father is blinded by his ambitions to consider what Cesare wants.
Maddalena Moretti has come from the country to work in the Vatican. As a servant she sees into the world of powerful men who rule Europe. When she catches the eye of the handsome cardinal, Cesare Borgia, their lives become entwined as Rome and the rest of Italy fight the changes that are coming for them all.
My Thoughts: I love Alyssa Palombo. She is such a talented writer. She brings her stories to life and makes the characters believable. Even though many of the characters in this story are not likeable she does a fantastic job of getting the reader to at least understand them. I have been fascinated by the Borgia's since picking up The Borgia Bride by Jeanne Kalogridis. I was very excited when I saw that Alyssa Palombo's newest book would be centered on this notorious family.
I love the intrigue and drama of the Borgia family. They were people who schemed for everything they got but were at the center of religious power in Europe. I am very familiar with their story so there was not much that surprised me in the narrative but I loved the naughty bits which were more prominent in this novel compared to her other ones. I liked seeing the world from the eyes of a servant. At the end the author discussed how she wanted to look at the events from someone of power and someone without power. I agree it makes it much more interesting to see both sides.
FYI: Perfect for fans of Philippa Gregory and Alison Weir.