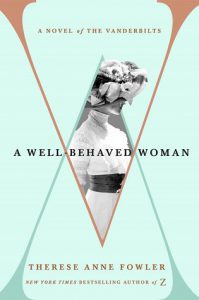 A Well-Behaved Woman by Therese Anne Fowler
First line: When they asked her about the Vanderbilts and Belmonts, about their celebrations and depredations, the mansions and balls, the lawsuits, the betrayals, the rifts—when they asked why she did the extreme things she'd done, Alva said it all began quite simply: Once there was a desperate young woman whose mother was dead and whose father was dying almost as quickly as his money was running out.
Summary: Alva Smith is from an old New York family. However, after the death of her mother and her father's financial troubles they are nearly destitute. Through the scheming of her friend, Consuelo Yznaga, she meets William K. Vanderbilt. He is the grandson of railroad tycoon, Cornelius Vanderbilt. William is looking to bring his family into New York society and Alva needs to take care of her family by marrying a wealthy husband. With this marriage of convenience Alva appears to get everything she wants. She helps the poor, builds grand new homes and travels the world. Yet it appears that something is missing…
Highlights: Before picking up this novel I had never heard of Alva (Smith) Vanderbilt. I remember the Vanderbilt name from high school history on the robber barons but nothing specific about each individual. I was pleasantly surprised by her story. She was a woman who did so much in a time when women were still thought of as dolls that needed to be sheltered. Her drive leads to grand homes, an opera house, women's suffrage and a title for her daughter.
I cannot imagine living the life of Alva Vanderbilt. The amount of money she had and what she spent it on. If you have time you should Google their house, Petit Chateau, on Fifth Avenue. Spectacular! The costume ball she threw in 1883 was so extravagant that they spent nearly one million dollars (in today's money) on champagne alone. Can you imagine?
Lowlights: Alva's story seemed to drag on a little bit with much of the same thing happening over and over again. I was a little sad that so much of her drive came with the need to be a part of society. I understand wanting to be accepted. Everyone wants to be accepted. And it could be that I just do not come from that world or lifestyle.
FYI: Check out Fowler's first novel, Z: A Novel of Zelda Fitzgerald.