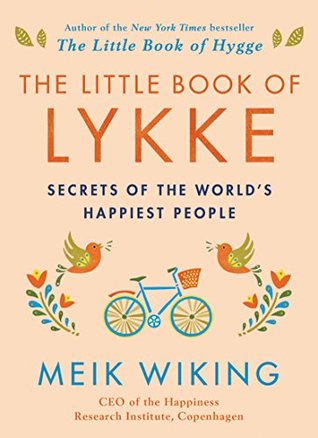 First line:
"What are you holding on to, Sam?"

"That there's some good in this world, Mr. Frodo. And it's worth fighting for."
Like Tolkien, Hemingway once wrote that the world is a fine place and worth fighting for. These days, it is easier to notice the fighting rather than what is fine.
Summary: In his second book, Meik Wiking, CEO of the Happiness Research Institute in Copenhagen, Denmark, embarks on finding out what happiness is and how the world defines it. He explores six different areas of happiness and how we can find happiness in our everyday lives.
My Thoughts: The last several months have been stressful and uncertain. If you are like me it has been hard to find something to be happy about when the world around us is changing so drastically. I read The Little Book of Hygge earlier this year and got inspiration from its pages. Now I needed something more. I need to find happiness in the little everyday things.
I cannot help but smile when I see this little colorful book. It immediately catches the eye and draws me to it. I loved Wiking's look into what makes us happy. Things like friends and family, money, kindness, trust, freedom and health are all factors in our happiness. He references several studies he and his team have done as well as other notable groups around the world. Not only does he focus on the science but the people and ways happiness is spread. He has met so many people and learned how different communities have made the lives better for their residents.
While reading I wanted to do all the things. I now want to buy a bicycle and spend more time outside (when it's less hot, of course). I want to live in Denmark. I want to live in a bofaellesskab, a cohousing development that is popular in Scandinavian countries where residents have their own space but also share communal space and everyone knows their neighbors. How cool is that?! I have lived in the same apartment for 3-1/2 years and don't know any of my neighbors' names.
This is a book I can see myself going back to for inspiration when times are tough. It makes me realize that there is good in this world and we can find happiness in the small things around us. If you need a pick me up then this may be what you are looking for.
FYI: This can be found on Hoopla as well as our catalog.