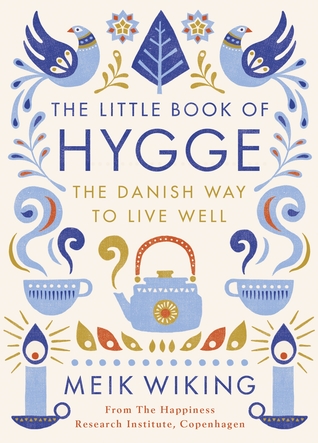 First line: Hooga? Hhyooguh? Heurgh? It is not important how you choose to pronounce or even spell hygge. To paraphrase one of the greatest philosophers of our time—Winnie-the-Pooh—when asked how to spell a certain emotion, "You don't spell it, you feel it."
Summary: Meik Wiking is the CEO of the Happiness Research Institute in Copenhagen, Denmark. In this small book he delves into the Danish word, hygge (pronounced hoo-ga). It is a lifestyle of comfy blankets, delicious food and lots of candles.
My Thoughts: It is that dark and dreary time of year. It is cold outside. Nothing sounds better than a warm blanket and a cup of tea. This is where hygge comes in. All I want to do is hygge now. And I have been trying to achieve it since finishing this book. Each evening I snuggle with my dog and a blanket while watching a favorite TV show or reading a good book.
I love how the author breaks down what hygge is and how to do it. Even though many Danes have different ideas about what is essential to hygge they all agree that it is comfort. The illustrations were pleasant and beautiful. If you are looking for something to help you get through the cold winter months than pick this up! And let us know how you hygge.
FYI: This is the first of several books by Wiking about how to find happiness like the Danes.
*This is my pick for category #2 (A fix-it, how-to, or self-help book) for the ReadICT challenge.*

Latest posts by Ashley Pohlenz
(see all)