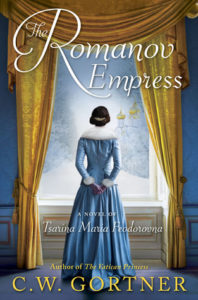 The Romanov Empress by C.W. Gortner

First line: "We should dress alike," I said on that afternoon when life changed forever.
Summary: In the latest historical novel by C.W. Gortner, we get the story of Minnie, the mother of the last tsar of Russia. Minnie is a princess of Denmark and destined to marry for an alliance. That marriage is to the future tsar of Russia, Alexander III. However, when trouble strikes the country the new tsar and tsarina must find a way to navigate the changing political climate before the country revolts. When Alexander dies unexpectedly, leaving their inexperienced son, Nicholas as tsar, Minnie must try to guide him before they lose their country forever.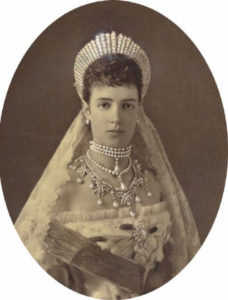 Highlights: I found Minnie to be a fascinating woman. I knew next to nothing about her other than what is portrayed in the movie, Anastasia.  (She is the grandmother who is desperately searching to find out if her son, Nicholas, and his family survived the Russian Revolution). She sounds like a strong woman who had to try to survive in a very turbulent time. Russia has always been a country with struggles and that fact that she lived through them shows how smart she really was.

"I'd finally found the means to be useful to my adopted country, to give back to Russia something of what she'd given to me."
It was difficult to keep track of all the relationships and marriages. I was constantly checking family trees and Wikipedia to figure out which character was which and how they played into the story of the Romanovs. Even knowing how the story ends, the Russian Revolution, I kept hoping for better for them.

Gortner does an amazing job of describing the opulence of the Romanov court. I would love to see the Winter Palace and St. Petersburg. There is so much history and culture in Russia. However, the riches and luxury that the tsar and his court lived in is hard to imagine. How can someone live like that? It just boggles the mind. It is easy to see why the peasants revolted. They were starving while the royal family drank champagne.
I remember when reading other novels about the Romanovs, that Alexandra was not very well liked.  Gortner gives us a look into why.  She seemed shy and anxious.  But Minnie, as dowager empress with lots of experience with the Russian people, tried to teach her how to act and gain their respect.  Their relationship was very volatile.  It was sad to see how much dislike there was between the two women.
Throughout the novel I was thrilled to see how well the author brought the history to life.  This is one of the best written historical novels I have read in a long time.
Lowlights: Do I have to have any lowlights? I think not. This book was great. Historical fiction is and always will be my favorite genre.
FYI: Perfect for readers of Philippa Gregory and Alison Weir.