*If you would like to listen to the audio book it is available on Libby.*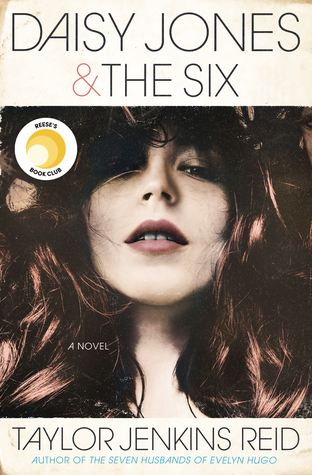 First line: This book is an attempt to piece together a clear portrait of how the renowned 1970s rock band Daisy Jones & The Six rose to fame—as well as what led to their abrupt and infamous split while on tour in Chicago on July 12, 1979.
Summary: Daisy Jones, a young girl in the late 1960s who spends her time on Sunset Boulevard, sneaking into clubs, drinking heavily and dreaming big of a life as a rock star. Billy Dunne is the lead singer of an up and coming rock band called The Six. They each have a unique sound but when their producer decides that the way to make them superstars is to combine their talents.
Told through interviews with band members, family, friends and colleagues we get the story of the legendary band known as Daisy Jones and The Six.
My Thoughts: If you loved the movie Bohemian Rhapsody then you should definitely check this out! And listen to the audio book. I find that the style of the writing is very hard to read because it is an oral history. The book is composed of interviews which bounce back and forth between different members. But the audio has a full cast and it feels like a documentary. I kept having to remind myself that this was fiction not an actual band.
I did not grow up in the seventies but I can imagine that Taylor Jenkins Reid does a great job of portraying it. Life was wild at the time. I really loved hearing about Daisy. She sounds like the typical female rock star of the time who struggled with drugs and the crazy lifestyle. However, I kept rooting for her to figure it out.
Each of the other characters has their own demons but they are mainly supporting characters. But I did enjoy hearing each ones perspective on the same events. It is crazy how different each person views and remembers the same thing. The one character that I really struggled with liking was Eddie. He drove me crazy. He was constantly complaining about everything, even though most of the stuff had nothing to do with him.
FYI: Pick up Reid's novel, The Seven Husbands of Evelyn Hugo!

Latest posts by Ashley Pohlenz
(see all)