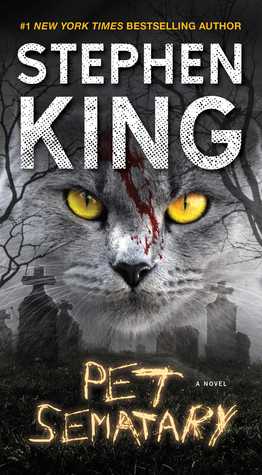 First line: Louis Creed, who had lost his father at three and who had never known a grandfather, never expected to find a father as he entered his middle age, but that is exactly what happened…although he called this man a friend, as a grown man must do when he finds the man who should have been his father relatively late in life.
Summary: Dr. Louis Creed takes a job as the resident physician at a college in Maine. He moves his family from their home in Chicago to a farm house in the country. Upon their first day there they are warned about the trucks that drive too fast down the road. As strange things start to happen that may be connected to the Pet Sematary located behind their house, Louis begins to wonder if he made a mistake bringing his family to Ludlow, Maine.
My Thoughts: I have been on a big Stephen King kick lately. It is all I want to read. Before October I had only read two of his novels. Both were good, Joyland and The Shining, but neither gave me the urge to read more. However, for the Forbidden Forest Read-a-thon at the library I picked Carrie for my horror novel. I am so glad I did. It was fantastic! I watched the movie after and really enjoyed it as well.
Pet Sematary was even more chilling. The way King describes everything makes them seem so real. I can see why the movies have not been able to do this novel justice. There is no way to convey the eeriness of the Church or the spooky trek through the woods to the burial ground. I did find the beginning slow as he was laying the groundwork for the second half. But as you come to the end you understand why he had to spend so much time on the backstory. I had nightmares while reading this but it did not stop me from buying a copy of Doctor Sleep and Misery the next time I was at a used bookstore. If you want something that will give you chills then King is definitely your guy!
FYI: I tried the new movie but I did not make it very far before I decided I did not want to mess with the version in my head.