What is yoga? Why is everyone saying it's so good for you? Can you even practice it despite (enter issue here – age, weight, injury, post-baby body, anxiety, etc.). And why would you do yoga at the library? These might be some possible questions flooding your mind if you've happened upon our poster or Facebook event. That's right, patrons! We're hosting yoga classes at the library! I've been practicing yoga for years and after earning my 200hr yoga teacher certification, I wanted to share yoga with you in a comfortable and non-competitive environment; the library!
What exactly is yoga anyway?
It's a 5,000 year old practice based in India involving an eight-limb philosophy including a mindful and healing connection between the breath and body. More simply, it's moving your body while staying aware of your breath. Yoga is a way to exercise and as with any exercise, you can adapt it to your needs. Yoga has a very deep and rich history with a lifestyle methodology attached to it, but you need to know exactly 0% of that if you just want to move your body, get rid of built-up toxins, release stress, and increase your strength and flexibility.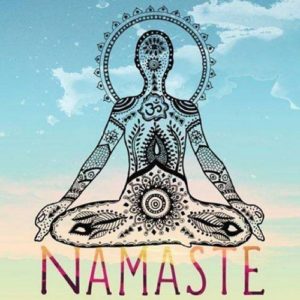 Yoga involves moving into various poses or asanas (the Sanskrit word meaning "comfortable seat"), and each pose targets a certain part of the body. Depending on the style of yoga, you may be holding the pose anywhere between 5 seconds or 5 minutes. No matter what pose you're in, the most important element of yoga is maintaining a smooth, even inhale and exhale typically through the nose (though you can breathe through your mouth if sickness has you down).
What are the different styles of yoga?
Yoga is really unique in that there are multiple styles developed from various schools of thought, Indian gurus, and interests. The most common styles are Hatha, Vinyasa, Ashtanga, Power, Hot/Bikram, Yin, and Restorative.
Here's a brief run-down for you:
Hatha – a slower, mindful practice where the pose is held for 30 seconds to about 2 minutes. Focus is on individual poses, alignment, and release of tension. Perfect style for beginners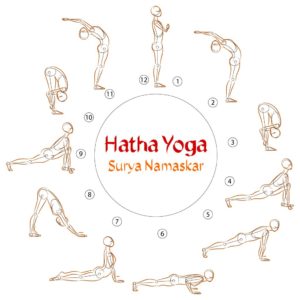 Vinyasa – a class emphasizing flow between poses. Each pose moves into the next pose fluidly while matching the inhales and exhales of the breath. Great for detoxifying, raising heart rate, and re-focusing an anxious or stressed mind.
Ashtanga – a style of yoga developed by an Indian guru and follows a specific series of poses held for a count of 10-15 seconds. Lots of Sanskrit is spoken in class and many "pretzel" poses you see on Instagram are from advanced Ashtanga practitioners.
Power – a style developed by Baron Baptise involving a combo of Vinyasa and Bikram. PiYo or Pilates/Yoga takes a lot from Power Yoga and includes fast movements, cardio, ab work, and a comprehensive workout.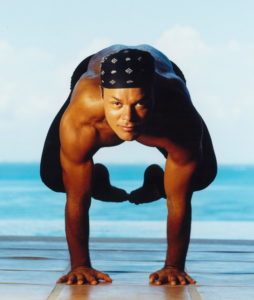 Hot/Bikram – Bikram yoga was really popular in America for a while and brought the Hot Yoga craze. Bikram yoga is a specific, copy written series of poses that only a trademarked studio can teach, but any studio can teach Hot Yoga just by cranking up their thermostat. Both Bikram and Hot Yoga are about keeping the room hot so your muscles can completely relax into the poses. It's intense, but very cleansing!
Yin Yoga – Yin is all about tolerating discomfort. Poses are long-holding, typically for about 5 minutes, and by holding these poses, inter-connective tissues within the muscles are lengthened and stretched in a way that increases and maintains your flexibility and brings healing to aching muscles.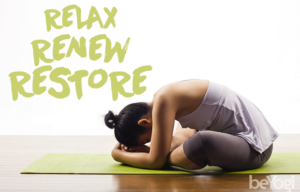 Restorative – this style is about alleviating discomfort. Restorative is relaxing, slow-moving, and incorporates props like bolsters, pillows, blankets, and blocks that allow your body to feel supported. This is a great style for injuries, mental health issues, and trauma.
Why is yoga good for me?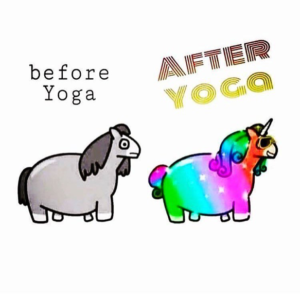 Any movement done for the body is good because it builds your fitness, eases the strain on your heart, and gets rid of unwanted things in the body, but yoga is specifically healing because unlike most exercise which puts the body in a state of stress, yoga aims to put the body in a state of acceptance and relief. Practicing yoga targets muscles in the body not to overwork them, but to release the tension they're carrying. Poses squeeze then release the organs and the lymphatic system which allows the body to cleanse and detox so you have less aches and pains, less headaches, and less discomfort overall.
Yoga also is healing to the mind. Breathing deeply has been shown to reconnect neural pathways in the brain, lower blood pressure, and purge impurities in the lungs which cause chest tightness. A key component of yoga usually includes some form of meditation or relaxation (savasana) which gives quietness to the otherwise cacophonous mind. While there is a competitive nature to any exercise, yoga is always a practice. It isn't about perfection or domination but just coming to your mat and doing the best you can with where you are in that moment.
What can I expect from the Yoga for Readers class?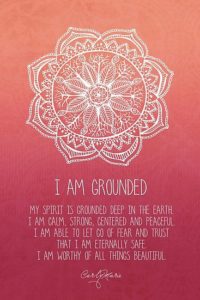 For our first yoga class, I wanted to present something that would be relatable for most patrons, but also similar to any class you would experience at a yoga studio. Yoga for Readers is going to feature a combination of Hatha, Vinyasa, and Restorative styles and include poses that will target parts of the body which hold tension during reading. We'll do some hip opening poses which are great for people who sit a lot or have lower back/sciatica pain. We'll do some upper back and posture-strengthening poses to help with back tension, and we'll go through a wrist sequence to help when you've been holding a book open or keeping an e-reader upright for a long time. We'll round it all out with a fun and easy meditation that will call on your creativity and relax your mind. The class will be accessible and gentle enough for first-timers or those recovering from injuries, but I'll feature more challenging variations for seasoned yogis or athletes who want to strengthen and tone.
Finally, who in the world am I and what makes me qualified to teach yoga?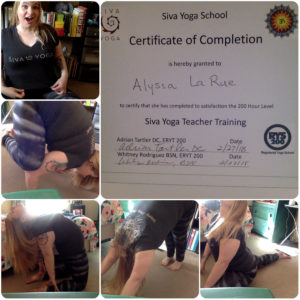 Hi, I'm Alyssa! Yoga came into my life 16 years ago when I was an anxious kid looking for something to do. I practiced yoga from DVDs throughout high school and taught yoga workshops in college, but it wasn't until about six years ago that I took my yoga practice more seriously. I took classes at Siva Yoga Studio in Wichita and practiced daily with teachers Erin Motz and SarahBethYoga to build a more confident and rounded practice. Last year I finally made the commitment to get certified and earned my 200hr Yoga Teacher Certification with Adrian and Whitney Tartler at Siva Yoga Studio which allowed me to become a Registered Yoga Teacher (RYT-200) with YogaAlliance.
Beyond my yoga experience, I also have a Masters in Social Work from Wichita State University and experience as a Licensed Masters-level Social Worker in the state of Kansas. This has provided me with a holistic understanding of yoga's impact on an individual's psychosocial development and guidance in offering trauma-sensitive and culturally competent services.
Yoga for Readers at the library
We've got two free Yoga for Readers classes scheduled for the month of April, and we'll be offering more classes if there's interest in the community. Consider this your personal invitation to attend one of our classes so you can relax your mind, strengthen your body, and enhance your creativity! Ages 13 and up are welcome (let me know if you have a child under 13 who would like to attend, and I'll make sure to modify).
Yoga for Readers classes will be on Monday, April 2 and Monday, April 23 from 6:30pm to 7:30pm in the Community Room. Limited yoga mats available, but we encourage you to bring your own mat, towel, and water bottle. No registration required.
See you on the mat!
~Namaste~

Latest posts by Alyssa Larue
(see all)