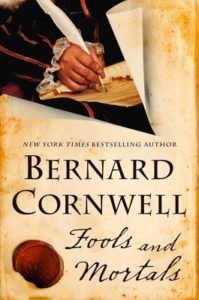 Fools and Mortals by Bernard Cornwell
First line: I died just after the clock in the passageway struck nine.
Summary: Richard Shakespeare, the younger brother of William, is a poor actor on the London stage. He yearns to play a man's part but he is being forced to portray women by his brother. When he considers leaving his brother's company, he finds himself entangled in a crime that could change everything. Forced to find and return his brother's missing manuscript from a rival playhouse he has to use his cunning and skill to keep him and his fellow actors from harm.
Highlights: I had never heard of Richard Shakespeare. He is a good storyteller and gives us an insight into the Bard's life. Cornwell does a great job of portraying Elizabethan England. The politics, religion and everyday life of the people are wonderful representations of the time. In addition, being able to see the creation and performing of several of Shakespeare's famous plays is fun to read.
Lowlights: The beginning runs a little slow. Most of the beginning is Richard concerning himself with being kept down by his brother. The pace does pick up about a third of the way through.
FYI: Good as an audiobook as well!

Latest posts by Ashley Pohlenz
(see all)