It's a shiny, brand new year and oh, the reading possibilities that brings! With the advent of a new year, we are getting into the seasons of many more new books being released! With that in mind, here are a few titles we are looking forward to in the first half of January. Click on the title of the book to go to our catalog to check availability.
Tell us in the comments what your reading goal is for 2018.
Jan. 2: The Cruel Prince (The Folk of the Air #1) by Holly Black—young adult
At 7, Jude lost her parents when they were murdered. At the same time her sisters were spirited away to live in the High Court of Faerie. Now 17, Jude desperately wants to join them, but to do so, she'll have to defy Price Cardan, the youngest and most wicked of the sons of the High King.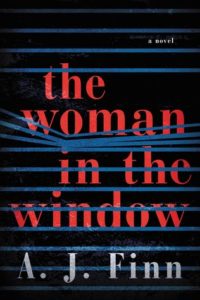 Jan. 2: The Woman in the Window by A.J. Finn
Anna Fox hasn't left her home in 10 months. Over those months, she has sat at her window day after day watching her neighbors. When a new family moves in, she feels particularly drawn to what looks like a picture-perfect family living what used to be her life. Then she hears a scream rip the silence and sees something no one should ever have seen, but what should she do?  She's not certain anyone will believe her, but she must get to the bottom of what happened.
Jan. 9: The Chalk Man by C.J. Tudor
In 1986, Eddie and his friends spend their time biking around their English village, sharing information with each other via little chalk figures. One day, a figure leads them to a dismembered body and everything changes. Now, it's 30 years later, and each of them gets a letter in the mail that contains a chalk stick figure. Then one of them turns up dead. Eddy figures it's time he learns what really happened all those years ago.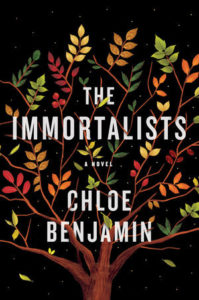 Jan. 9: The Immortalists by Chloe Benjamin
A traveling psychic shows up in New York City's Lower East Side in 1969, a woman who claims to be able to foretell the day a person will die. Four teenagers, the Gold children, sneak out to hear their fortunes. The prophecies they hear guide their stories for the next 50 years.
Jan. 16: Carnegie's Maid by Marie Benedict
From Goodreads: "In the industrial 1860s at the dawn of the Carnegie empire, Irish immigrant Clara Kelly finds herself in desperate circumstances. Looking for a way out, she seeks employment as a lady's maid in the home of the prominent businessman Andrew Carnegie. Soon, the bond between Clara and her employer deepens into love. But when Clara goes missing, Carnegie's search for her unearths secrets and revelations that lay the foundation for his lasting legacy. With captivating insight and stunning heart, Carnegie's Maid tells the story of one lost woman who may have spurred Andrew Carnegie's transformation from ruthless industrialist into the world's first true philanthropist."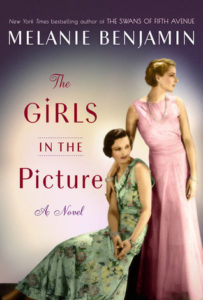 Jan. 16: The Girls in the Picture by Melanie Benjamin
Two of Hollywood's earliest female superstars are at the center of this book, which explores the friendship and creative partnership shared by Mary Pickford and Frances Marion. In 1914, Frances meets Mary, who is already making a name for herself. But together, these two women will hold much power in the movie industry and in Hollywood itself. Mary Pickford was knows as "Queen of the Movies" and Frances Marion is considered one of the most important female screenwriters of the 20th century.

Latest posts by Alyssa Larue
(see all)