I love to buy books!  I think many of us here at the library have this same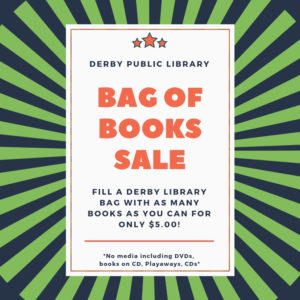 problem.  I want to have copies of my favorite books on hand in case I want to reread them or to decorate my apartment.  So when a big book sale is going on I always try and get there to pick up a few treasures.
The library has a running book sale but every so often we have more books than we know what to do with.  That is when we have a bag sale!  What is better than getting a Derby Library bag stuffed full of new and old books?!  We currently have this sale happening at the library running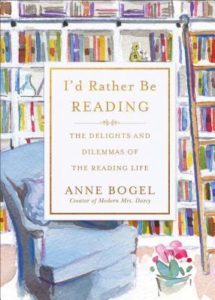 through November 3rd.  Come in and see what is here.  New books are added every day.
I'd Rather Be Reading by Anne Bogel
First line: "Can you recommend a great book?"
Summary: Told through a series of essays by author and blogger, Anne Bogel, we get a look into what makes reading a full time hobby of hers. She gives the reader tips on how to organize their bookshelf, tells us what got her hooked on reading and the love of her library next door. This cute little book is perfect for the book lover in your life!
Highlights: I recently started following Anne's blog (Modern Mrs. Darcy) and her Instagram account. She LOVES books and everything book related. This short little book was quick read that is easily relatable. She knows exactly what it means to be a book lover. I felt like she was talking directly to me. Moreover, learning that I am not the only one who is obsessed by reading and all things books.
I loved her idea of a book twin. Someone who has similar reading likes and dislikes. Someone who can vet books for you and you for them. Her tips and tricks make me want to reorganize my bookshelves and add more shelves too. I never even considered having shelves dedicated to authors I have met or organize based on colors.
Lowlights: The essays are nothing groundbreaking but are a fun read that are easy to connect with as a reader.
FYI: The author also has a podcast, What Should I Read Next.