City of Thieves by David Benioff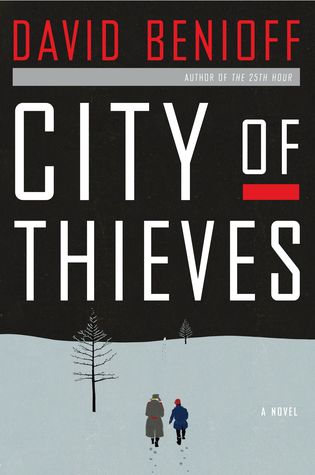 During the Nazis' brutal siege of Leningrad, Lev Beniov is arrested for looting and thrown into the same cell as a handsome deserter named Kolya. Instead of being executed, Lev and Kolya are given a shot at saving their own lives by complying with an outrageous directive: secure a dozen eggs for a powerful Soviet colonel to use in his daughter's wedding cake. In a city cut off from all supplies and suffering unbelievable deprivation, Lev and Kolya embark on a hunt through the dire lawlessness of Leningrad and behind enemy lines to find the impossible.
By turns insightful and funny, thrilling and terrifying, City of Thieves is a gripping, cinematic World War II adventure and an intimate coming-of-age story with an utterly contemporary feel for how boys become men.
Usually WWII books just aren't my jam. I feel like unless you're a history buff, once you've read a few books on the topic you're good. But I found City of Thieves to be the exception. I've never read anything that explained how desperate things got in Leningrad during that time. It was a moving story that will forever be ingrained in my mind.
So how should I write a food related blog centered on a book about war and starvation? Probably a little like my post about The Hunger by Alma Katsu that focused on The Donner Party. Like the Donner Party, the people of Leningrad were rumored to have resorted to cannibalism, but instead of showing you another rib recipe I think we'll go another route. In City of Thieves you were considered lucky if you could even get your hands on a onion! So, how about you hope your neighbor has a tomato stashed away, you offer up your precious onion, like it's your first born, and together you could make Tomato Onion Stew. If things started looking up you may find some wild creature roaming the bombed streets. Do your best to catch it, and make Old Fashioned Wild Game Stew. You probably won't have any veggies to put in it but maybe, just maybe you saved a little of your daily onion and you could drop that in? Sounds like a plan to me!
All kidding aside City of Thieves by David Benioff is a wonderful read. Give it a go and let me know what you think.

Latest posts by Dawn Best
(see all)