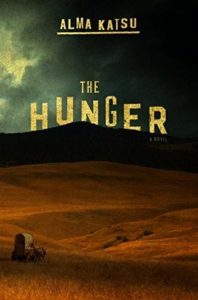 This post won't have anything to do with it, but Happy Mother's Day!
Evil is invisible, and it is everywhere.
That is the only way to explain the series of misfortunes that have plagued the wagon train known as the Donner Party. Depleted rations, bitter quarrels, and the mysterious death of a little boy have driven the isolated travelers to the brink of madness. Though they dream of what awaits them in the West, long-buried secrets begin to emerge, and dissent among them escalates to the point of murder and chaos. They cannot seem to escape tragedy…or the feelings that someone–or something–is stalking them. Whether it's a curse from the beautiful Tamsen Donner (who some think might be a witch), their ill-advised choice of route through uncharted terrain, or just plain bad luck, the ninety men, women, and children of the Donner Party are heading into one of one of the deadliest and most disastrous Western adventures in American history.
As members of the group begin to disappear, the survivors start to wonder if there really is something disturbing, and hungry, waiting for them in the mountains…and whether the evil that has unfolded around them may have in fact been growing within them all along.
I think a lot of people continue to be interested in the Donner Party. It's just one of those terrible train wreaks in history you can't look away from. Katsu puts a completely believable (at least to me) paranormal spin on it that makes you really wonder what happened to those poor people???
Right about now you may be thinking "Where in the world is she going to take us with the food portion of this post"? Well I bet if you think about it for a second you can guess…… RIBS! Yup, I think we need to go there!
I don't have an Instant Pot, but someone told me they made them and they're wonderdful, so if you do have an Instant Pot you should definitely make these Instant Pot Country Style Ribs.  What sides you do like with ribs? I polled my co-workers and they all said coleslaw so I would try this fun Dill Pickle Slaw.  Then finish it off with a nice cornbread and you've got some good eats!
Now run right to your kitchen and make all of these recipes and let me know what you think!

Latest posts by Dawn Best
(see all)