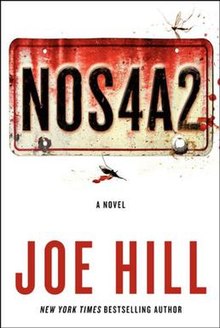 Victoria McQueen has a secret gift for finding things: a misplaced bracelet, a missing photograph, answers to unanswerable questions. On her Raleigh Tuff Burner bike, she makes her way to a rickety covered bridge that, within moments, takes her wherever she needs to go, whether it's across Massachusetts or across the country.
Charles Talent Manx has a way with children. He likes to take them for rides in his 1938 Rolls-Royce Wraith with the NOS4A2 vanity plate. With his old car, he can slip right out of the everyday world, and onto the hidden roads that transport them to an astonishing – and terrifying – playground of amusements he calls "Christmasland."
 
Then, one day, Vic goes looking for trouble—and finds Manx. That was a lifetime ago. Now Vic, the only kid to ever escape Manx's unmitigated evil, is all grown up and desperate to forget. But Charlie Manx never stopped thinking about Victoria McQueen. He's on the road again and he's picked up a new passenger: Vic's own son.I've been in a reading slump for quite awhile now. Do you ever get in those? No matter what genres I picked up nothing could keep my interest! So what made me think a 692-page book would be the right thing to pull me out of my slump??? Well first of all NOS4A2 has been adapted into a TV series on AMC that started on June 2. The previews looked amazing and I hate to watch a movie or TV show that's been adapted from a book without first reading it. And second the author Joe Hill is Stephen King's son. I've never read Hill before, but he's been on my list for a long time and I'd heard great things about his writing style. NOS4A2 didn't disappoint! It was just what I needed to get myself reading again. Now I just have to hope the TV series does the book justice.
I know you're thinking this is an odd book to pair food with. And you would be 1000% right about that, but I loved the book so dang it I'm going to make it work! Instead of doing the obvious Christmas themed treats I want to focus more on Vic's summertime at Lake Winnipesaukee. At the diner "Terry's" she and her parents would have Frappes (you can't call them milkshakes). This article will explain the difference between the two and give you a great recipe. I don't think any summer diner experience could be complete without a really good burger. This recipe is great for those yummy thin burgers that are cooked on the griddle and get all kinds of crispy around the edges.
This is one of those books that you can enjoy in summer or around the holidays. I hope you decide to give it a read and maybe get inspired to make one or both of the recipes listed above.


Latest posts by Dawn Best
(see all)