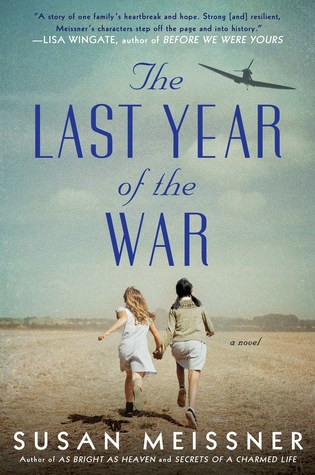 First line: I've a thief to thank for finding the one person I need to see before I die.
Summary: Elise Sontag, a fourteen year old girl from Iowa, has her life turned upside down when her father is arrested on the suspicion of being a Nazi sympathizer. Her family is sent to an internment camp in Texas where she meets her best friend, a Japanese girl named Mariko. They spend several months together before Elise's family is deported back to Germany. In the hopes of keeping their friendship alive the two exchange letters but it is difficult with the ongoing war. However, Elise keeps up hope that after the war ends she will be able to return to America and see her best friend again.
My Thoughts: I really enjoyed this story. The last several books have not been as good as Secrets of a Charmed Life which was my first book I read by Susan Meissner. It is a topic that has not been talked about much and it could be because it is embarrassing but it is our history and we need to acknowledge it. And learn from it too. I cannot imagine how shocking it would be to have everything taken from you and being forced to live in basically a prison. Then to be sent back to a land that they had left or never even lived before. Especially with a war on and cities are being heavily bombed. How do you rationalize that?
The time spent in camp was actually a very small part of the book. Most of it took place in Germany after Elise's family is repatriated. I liked listening to her story as she navigates this foreign land in wartime. She did not speak German which put her in a tight spot since the Germans were at war with America. I highly recommend this to anyone who loves a story set during World War II.
FYI: Definitely check out Secrets of a Charmed Life by Susan Meissner.


Latest posts by Ashley Pohlenz
(see all)