Recently Miss Hannah and I recorded a podcast where we gushed about how much we love the author Cassandra Clare and her work. If you love everything Shadowhunters then you should listen to our podcast episode and check out her newest book, The Red Scrolls of Magic.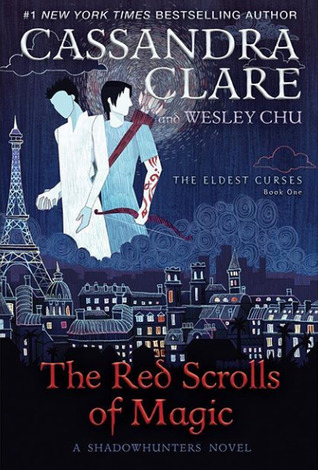 First line: From the observation deck of the Eiffel Tower, the city was spread at Magnus Bane and Alec Lightwood's feet like a gift.
Summary: Following the Mortal War against Valentine Morgenstern and his followers, it is time for a much needed vacation. Alec Lightwood and his warlock boyfriend, Magnus Bane, are on a romantic adventure through Europe. However, everything does not go as planned. With the arrival of an old friend, Magnus is warned that there is a demon worshipping cult making trouble in Europe. And the rumored leader is none other than Magnus Bane himself. In order to clear his name and bring down the cult he and Alec travel across Europe fighting demons and attending some rather exciting parties.
My Thoughts: I have been waiting for this for years! I love Alec and Magnus. I have been a huge fan of their relationship from the very beginning. And now they are traveling across Europe. Yes please! One of the best things about Clare's characters, especially Magnus, is their wit. He always has perfect little quips.
The story started a little slow and the pacing seemed a little off from Clare's other works but that may be due to having a co-writer on this novel. However, once I got into the story I was hooked. I read the last 200 pages in one day. I could not put it down. I loved their banter. I was happy to see some characters from later timelines make an appearance. Even though this novel is much shorter than her more recent ones it does not lack any of the pieces that makes her other books so gripping. There is a lot of action, romance and demons.
And this novel is her first adult novel in the Shadowhunter universe. It is evident that this is written for a little older audience because there is some more graphic scenes but it does not go too far. At the end Cassie writes about how she wanted to write this novel for a long time and left a gap in her timeline in case she was able to get it written. I could tell that it was a project she felt very passionate about.
FYI: This is the first in a new trilogy, The Elder Curses. It takes place after the first three books in the Mortal Instruments series.

Latest posts by Ashley Pohlenz
(see all)