We have several new apps and services.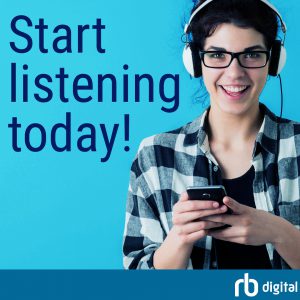 My new favorite is RBDigital Unlimited.  It has a wide selection of older audio books available to download onto your mobile device.  I love to read the new releases but sometimes there is a book that I have been meaning to read but have not gotten around to it yet.  Well this is a good way to get them off the TBR list!  The best part of this is that there is no waiting for a title.  Every title on the site is available immediately.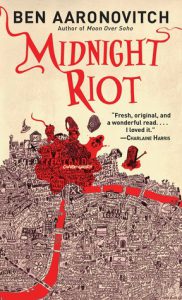 Midnight Riot by Ben Aaronovitch
First line: It started on at one thirty on a cold Tuesday morning in January when Martin Turner, street performer and, in his own words, apprentice gigolo, tripped over a body in front of the West Portico of St. Paul's at Covent Garden.
Summary: Peter Grant, a probationary constable, has hopes of becoming a detective. When investigating a disturbance he gathers some information from a witness. However, this witness also happens to be dead. With the knowledge that Peter can communicate with ghosts brings him to the attention of Chief Investigator Thomas Nightingale. He heads a special department in the London PD who deal with magic and supernatural occurrences. As a string of murders overtakes the city, Peter is thrust into the world of magic and mystical beings.
Highlights: I found this to be a mixture of Sherlock and Harry Potter. This is a fun book. As a grownup who loves to read a mixture of YA, fantasy and mysteries, then this is the perfect combination. It was originally recommended to me by my German sister, Melanie. This sat on my to be read pile for a long time but when I saw that I could listen to the audiobook using RBDigital Unlimited, I immediately checked it out. It was gritty and dark but at the same time a little lighthearted. There was humor mixed in with the murder.  One thing that I found to be new and interesting is that several of the characters are rivers in human form.  This is the name of the series, Rivers of London, but I never actually considered that they would be actual characters.  If you want something a little different than this may be it.
Lowlights: A lot of the story was building the world. Who is Peter Grant? What is the magical department and what do they do? As with all new series it takes a bit to get the ball rolling. I think this was my main issue but I will definitely pick up book 2, Moon Over Soho.
FYI: There is language and violence.

Latest posts by Ashley Pohlenz
(see all)