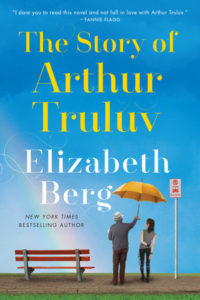 For the past six months, Arthur Moses's days have looked the same: He tends to his rose garden and to Gordon, his cat, then rides the bus to the cemetery to visit his beloved late wife for lunch. The last thing Arthur would imagine is for one unlikely encounter to utterly transform his life.
Eighteen-year-old Maddy Harris is an introspective girl who visits the cemetery to escape the other kids at school. One afternoon she joins Arthur—a gesture that begins a surprising friendship between two lonely souls. Moved by Arthur's kindness and devotion, Maddy gives him the nickname "Truluv." As Arthur's neighbor Lucille moves into their orbit, the unlikely trio band together and, through heartache and hardships, help one another rediscover their own potential to start anew.
This is one of those beautifully heart warming stories that really makes you believe everything can work out in the end. If you find yourself down in the dumps or maybe lately you've just been reading books that are way too serious, you need this story in your life! Like right this minute! FOR REAL!
And the food. Oh the food! I think food, or perhaps meals are a major character in this book. When Arthur is on his own he keeps it pretty simple. He takes a sandwich to the cemetery everyday for his lunch. Though they tend to be simple I think the fact that he rotates his filling choices shows he still cares a little bit about his noon meal. At dinner Arthur seems to feel more alone and that is reflected in his cooking or lack there of. But I will say I love the way he threw together his beans! I think beans can be one of the most simple and comforting meals. This isn't Arthur's recipe but it's one of my favorite ways to enjoy beans Shrimp with White Beans on Toast. 
Another character, Arthur's neighbor Lucille, is one heck of a baker and chef. She likes to show her love through food, and she woos Arthur with wonderful confections like her Orange Blossom Cookies  which he thinks about often. When Lucille decides to start teaching a cooking class she agonizes over what her first recipe should be. She settles on her Pistachio Party Cake. I'm not sure what her exact recipe is but I knew she would be appalled if I included one that used a box cake mix! At Thanksgiving Lucille is in full crazy holiday cooking mode! She decides to make 14 things but assures Arthur and Maddy it's really not that big of a deal since two of the 14 are cranberry sauces. When she finds out there will be a last minute guest she decides she really needs to make Pumpkin Tea Bread, because you can't entertain without it. Lucille is a lady after my own heart!
The Story of Arthur Truluv truly shows what "Food is Love" really means. I think cooking for and sharing food with those you love is one of the greatest experiences humans can enjoy. Let me know if you make any of the recipes from the book or just enjoy reading it.

Latest posts by Dawn Best
(see all)