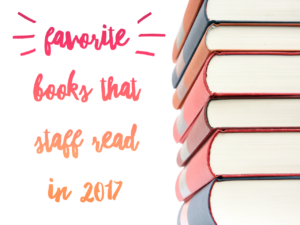 We work in a library, and as you'd expect, most of us are active readers. While few of us can keep up with Ashley (who read over 130 books last year!), many of us definitely spend a lot of our spare time reading, and we want to share some of the books we enjoyed reading most in 2017.
These are not necessarily books that were released in 2017, in fact some of them are  a few years old. One thing they have in common though, is that someone who works here in the library read them last year and loved them. And now we want to share them with you! Below is the name of each staff member who shared a title and the title and author of the book they recommend. Click on the title of the book and it will take you right to the catalog entry for the book, where you can place it on hold to read it yourself!
Justin: Dark Matter by Blake Crouch
Rachel: Crooked Kingdom by Leigh Bardugo
Kathryn: Six of Crows by Leigh Bardugo
Maycie: The Raven Cycle Series by Maggie Stiefvater
Linda: Lilac Girls by Martha Hall Kelley
Chelsea: Practical Magic by Alice Hoffman
Alyssa: Emma by Kaoru Mori (YA manga)
Kristy N: Caraval by Stephanie Garber
Ashley: The Bear and the Nightingale by Katherine Arden
Megan: My (Not So) Perfect Life by Sophie Kinsella
Carri: Took by Mary Downing Hahn
Tami: The Alice Network by Kate Quinn
Cori: A Gentleman in Moscow by Amor Towles
And if you are looking for more reading suggestions, remember to visit our website at www.derbylibrary.com and click on "New & Recommended" under the Books & Media tab.

Latest posts by Alyssa Larue
(see all)