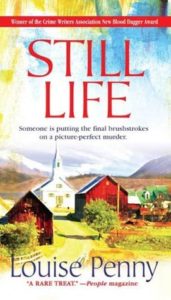 Chief Inspector Armand Gamache of the Sûreté du Québec and his team of investigators are called in to the scene of a suspicious death in a rural village south of Montréal and yet a world away. Jane Neal, a long-time resident of Three Pines, has been found dead in the woods. The locals are certain it's a tragic hunting accident and nothing more but Gamache smells something foul this holiday season…and is soon certain that Jane died at the hands of someone much more sinister than a careless bowhunter.
I first heard about this series while listening to the podcast Pop Culture Happy Hour. The reviewer said this was one book she really thought was best enjoyed on audio. So I put it on hold through RB Digital, and because of  it's popularity I had to wait for it for several weeks. Let me tell you it was worth the wait! Because the story takes place in Quebec there are so many beautiful accents and french words I would have butchered them without having it read to me! This series spoke to me in so many ways. The characters are amazing and the descriptions of the meals they enjoyed were drool worthy. I will admit that the first book wasn't an earth shattering read, but if you enjoy it please move on to the next book in the series. I think each one is better than the one before.
Now on to the FOOD! It's really hard to narrow it down to just a few recipes, but I think keeping with the french bistro vibe is the way to go. Steak Frites is one of my favorite bistro dishes and it's really very simple and delish. Serve with a nice red wine and finish with this easy French Apple Tart.
You may or may not know this but if you live in or around the Wichita KS area you are lucky enough to have a french bistro close by. You could take  your audio book to Georges French Bistro and enjoy a lovely meal with no dishes to clean afterward. I'm planning to go once the weather warms up and sit outside on their Paris inspired patio.
Let me know what french dishes are your favorite!

Latest posts by Dawn Best
(see all)