Living in Kansas it seems to be guaranteed that everyone knows the story of  The Wonderful Wizard of Oz by L. Frank Baum.  However, the book and the movie (starring Judy Garland) are quite different.  But how much do you know about the man who wrote the story?  Years ago there was a made for TV movie called The Dreamer of Oz, starring John Ritter, who portrayed Mr. Baum and detailed his life and the writing of his famous novel.  In a new book by Elizabeth Letts we get a look at Maud Gage Baum, the wife of the author.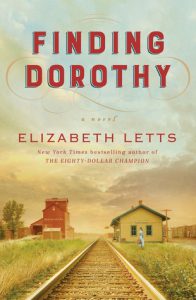 Finding Dorothy by Elizabeth Letts
First line: It was a city within a city, a textile mill to weave the gossamer of fantasy on looping looms of celluloid.
Summary: Maud Gage Baum, the widow of the author of The Wonderful Wizard of Oz, visits the set of the filming of The Wizard of Oz where she meets the young star, Judy Garland. Maud immediately feels a connection and need to protect the sixteen year old actress who will be portraying Dorothy. Told through flashbacks we see Maud's life with husband, L. Frank Baum as they start out touring the country with a theater group to owning their own dry goods store to becoming a literary success.
Highlights: This was a fun jaunt through the history of one of the greatest movies/books of all time. I remember watching the movies numerous times as a child before I ever picked up one of the books. It is so much different but each are wonderful in their own ways. Nothing beats Judy Garland singing 'Over the Rainbow'.
I know that the author took some liberties with the history to help suit the timeline and layout of her novel but the background of this iconic story is fascinating. Such a successful man (or so I would have assumed) struggled so much trying to find his place in the world. He tried multiple different careers before he wrote The Wonderful Wizard of Oz. Even though his story is entertaining, his wife was the strong one.
Maud Gage Baum was the daughter of famous suffragette, Matilda Joslyn Gage. She was a strong advocate for women's right to vote, fighting alongside Elizabeth Cady Stanton and Susan B. Anthony. Maud learned from her to be bold and speak her mind. As I read I could tell that having such a strong mother helped Maud navigate her life with an eccentric husband and battling the studio to do justice to his novel.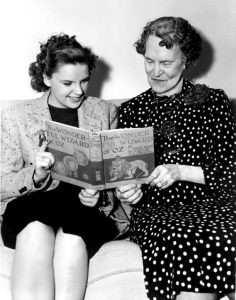 I loved every interaction that Maud had with Judy Garland. It is hard to imagine that Judy was only sixteen when she was cast in the role that sky rocketed her career. The poor girl had to deal with unbelievable things while preparing for this role including smoking 80 cigarettes a day and taking diet pills to keep her trim. It is outrageous. Maud tries to help Judy as much as possible in order to keep her promise to Frank to watch over "Dorothy". This is the most heartwarming part of the novel, watching Maud make sure that Judy is Dorothy and Dorothy is Judy, and fighting for her.
Lowlights: There were several historical inaccuracies that are easily overlooked but at times also drove me a little crazy. One of Maud's sisters was completely left out of the story. And the idea behind the character, Dorothy, was changed. However, the story does not suffer for any of this. Letts does a great job of weaving a fun and intricate story filled with all the magic of Oz.
FYI: Pick up the Oz books! Watch the movie!