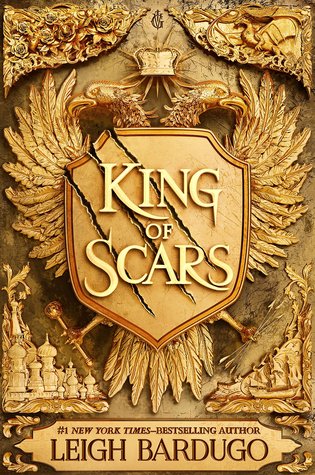 King of Scars by Leigh Bardugo
First line: Dima heard the barn doors slam before anyone else did.
Summary: Nikolai Lantsov, the young king of Ravka, has spent the first several years of his reign trying to hold his country together. With the help of his Triumvirate he hopes to strengthen the borders, improve diplomatic relations and rebuild the Second Army. However, as miracles continue to happen around the country and a darkness still infects his land, he is met with more than he imagined.
My Thoughts: Nikolai was one of my favorite characters from Bardugo's original trilogy. He has a sharp wit and charisma that lets him steal every scene. I was so happy when I learned that he was getting his own duology. Authors do answer prayers! Ha! And Nina from The Dregs Duology has a starring role as well. I loved every one of her chapters. She is daring and smart. And she does not mind causing a little trouble along the way.
"But it's a very arduous path," Nikolai said. "Who will carry my snacks?"
In addition to past characters we meet several new ones. I did not know how I was going to feel about them when they first entered the storyline but they surprised me. It was a fun plot twist. I am excited to see where these new characters take us.
The first half of the book was a little slower, a trait which I have noticed in the other books. But when the action picks up the story flies by. Trust me and stick with this. It is worth every minute you spend reading it.
And finally that ending! Wow! It was shocking. It literally gave me goosebumps as I was reading it. I will be highly anticipating the next book. I hope I do not have to wait too long.
FYI: I would highly recommend you read The Shadow and Bone Trilogy and The Dregs Duology before picking this one up. There are lots of characters and storylines that carry on into this latest addition to the Grishaverse.