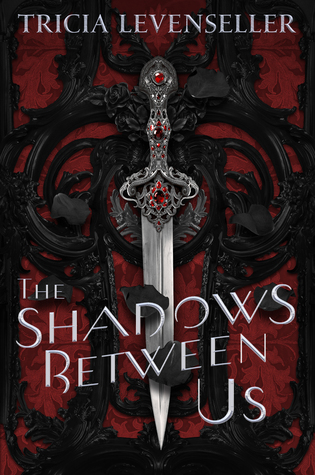 First line: They've never found the body of the first and only boy who broke my heart.
Summary: Alessandra is the youngest daughter of an earl. She has spent her life sequestered from the world until her sister marries but she has a plan to gain ultimate power for herself. First she is going to get the attention of the Shadow King. Second she will make him fall in love with her and marry her. And finally she is going to kill the king and take over his kingdom.
My Thoughts: Ever since reading Tricia Levenseller's first book, Daughter of the Pirate King, I have been hooked. It was a fast read and lots of fun! Each book since has been the same. I highly anticipate each new release. When I saw that Netgalley had an ARC of The Shadows Between Us I requested it immediately.
This is my favorite book of her so far. This is being called a Slytherin romance and that 100% describes it. I loved each of the main characters. They were both not good people but they are unashamed of it too. They know it and do not apologize for their faults. From the very first page the story takes off. Alessandra is wickedly charming and cunning. Kallias is dark, moody and brutal. But there are characters with lighter sides that add a little fluff which is refreshing too.
I loved the whole premise of the Shadow King. The magic and the way it works is brilliant. This author has a wonderful imagination and can bring her worlds to life. I could easily picture Kallias and his shadows. The details of the outfits were stunning. I wish I could read this again for the first time. I am so sad I have to wait another year for a new book by Levenseller.
FYI: This is a standalone young adult novel.