Xochitl's Lineup
Book: The Center of Everything by Laura Moriarty
This is one of those books that will stay with me forever. The Center of Everything is about Evelyn and her journey from childhood to the end of high school in a small town in Kansas. She's being raised by a single mother and has a younger brother with mental development issues. Evelyn is an intelligent girl with a lot of opportunity, but she's battling poverty and being raised on a single income.
I loved everything about this book. The timeline didn't feel slow at all, and the progression from her being a young girl to an almost college student felt natural. She's spunky and funny, and though it can feel easy to feel frustrated at her sometimes, remembering she's a young fictional girl dealing with a lot of grown-up issues really sets the story in perspective. Evelyn deals with religious questioning and peer pressure all throughout the book, as well as figuring out her relationship and feelings towards her mother. These difficult topics in this book hit hard, and the way Evelyn deals with it all is realistic for a teenage girl just trying to figure out life. The other characters in this book are also well written, in my opinion. No one is perfect, and there are a lot of characters I feel like I've met before. Another thing I liked about this book was that it was set back in the 1980s, so seeing how a young Kansas girl's life was back then was cool. I am so glad that I was able to read this book as a young adult because I feel like a lot of my teenage memories are still fresh, so I was able to really immerse myself in Evelyn's world, a world that was very similar to mine.
Available to check out here.
TV Show: Under the Banner of Heaven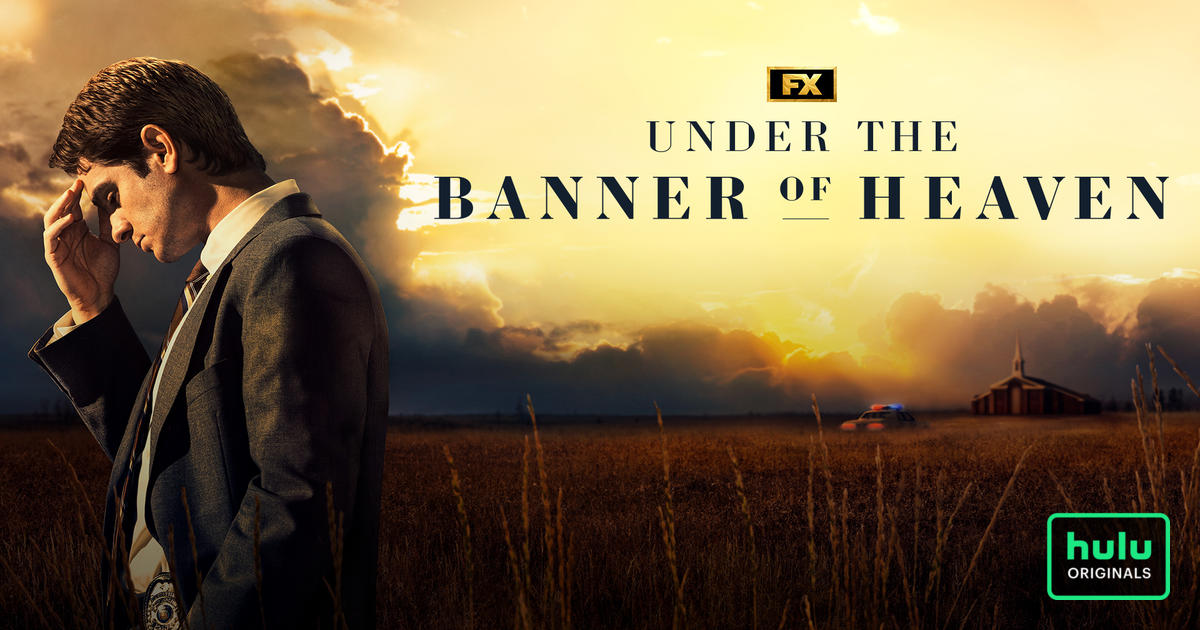 It's been years since I've binge watched a show in one sitting, but Under the Banner of Heaven changed that. I had seen the book being checked out quite frequently and noticed it had a large hold list, but I'd never given it much thought until I saw it being advertised on the home page of Hulu. From the first episode, I was hooked. The story and characters were intriguing, so I had to keep watching. The story centers on the Mormon faith and a real-life murder in Utah. Andrew Garfield plays a fictional detective, but his character was by far my favorite. His personal dilemma keeps the show interesting, and I loved his interactions with any of the characters on the show. The show goes between past, present, and historical times, which I did like because it helped set context for what was going on. Because of how fantastic this show was to watch, I am now reading the nonfiction book on which it was based.
The show has seven episodes, and each is about an hour long. Viewer discretion is advised for topics such as religion, abuse, abuse of children, and murder.
Available on Hulu and we do have the book the show is based available to check out here.
Music/Album: Un Verano Sin Ti
Have you listened to Bad Bunny's Un Verano Sin Ti? I would be surprised if you haven't, seeing that the album is the most streamed album so far this year, earning 357 million streams just on the Spotify app on its debut day.
Besides listening to every music genre under the sun in English, I also grew up listening to just about every music genre in Spanish. Reggaeton quickly became one of my favorite genres when I was little, as it was a mix of Latin and Caribbean sounds paired with American hip-hop rap and music. It's a fun genre that I will never get tired of. Bad Bunny is a modern reggaeton artist from Puerto Rico, influenced by the same classic artists I grew up listening to. His most popular album, YHLQMDG, is regarded as one of the most important albums in reggaeton music. His newest album was no exception to that popularity.
The album title in English is "A Summer Without You," and it makes the perfect summer playlist for a day by the pool or at the beach. Each song is danceable and no song is just like the last, as Bad Bunny experimented a lot with this album. There are a lot of sounds that are familiar to me, but that is because he samples old songs from the many genres I grew up with, like merengue or hip-hop. The album has two sides, with one being pure party and the other being easier to listen to. Side B has a lot of political songs with great messages, all tied together with instrumentals rarely seen on a party album. Nonetheless, Un Verano Sin Ti is still a high energy album for sure, and I make sure to play any song at the loudest volume possible. I can listen to this album at any time, it doesn't matter if I'm cleaning, walking, or swimming. My favorite songs are Despues de la Playa, Efecto, Andrea, Party, and Me Porto Bonito. 
Even if you don't speak Spanish, especially Puerto Rican and Caribbean Spanish, I think this important album is a must-listen to if you're looking for a top tier summer playlist.
Available to stream here or on any music streaming platform.
Video Game: Kirby and the Forgotten Land
The Kirby games are a huge comfort for me, since I was probably 8 years old. Kirby is my favorite video game character and I've enjoyed all the Kirby games I've played. Needless to say, I was super excited for the release of Kirby and the Forgotten Land. The pre-release footage looked so fun and the story seemed fascinating. Thankfully, our library is pretty good at getting new video game releases out to be circulated!
The game was adorable and nostalgic. A lot of Kirby's powers were just like his powers from some of the previous games, but the new ones were just as funny and cute. The villains were exciting, and some of them were tough to beat, admittedly. While Kirby is the cutest creature in the universe, this is a fighting game through and through. Getting to learn how to use certain powers and upgrades was challenging, especially when you're fighting with a low health bar. The story almost had me playing this game in one sitting too! Not only that, but the mini-games and hidden levels make it so easy to get out of the main story. There's so much to learn about the game, and I'm excited to beat the game again and again to make sure I don't miss a thing.
Kirby and the Forgotten Land is available to check out here for the Switch.
Hobby/Concert: Monsta X Tour Show
I've been waiting for this concert for years—literally. I originally bought my tickets back in January 2020, fully expecting to attend the show that following June. A pandemic, rescheduled shows, and a canceled one later, I would finally get to go see a favorite group of mine at a new show with new seats.
Before I turned 18, besides studying, I actually spent most of my free time at concerts. Since college and the pandemic, I haven't been to a concert in a very long time. I mainly just went to punk rock shows and the occasional pop or rap artist, but my tastes have grown since then to include the Korean boy group, Monsta X. They're natural performers, winning awards back home for their stage presence and ability to sing and dance live. I don't really like pop boy groups, but Monsta X easily stole my heart. If you don't like listening to music in a language you don't understand, they have two English albums dedicated to their international fans, full of pop and R&B songs.
The concert itself was just top-tier amazing. They are so interactive with the crowd (I even got a wave!) and hype the audience up all the way. Their live vocals are fantastic, even while dancing, and their dancing abilities are insane. I also loved all the outfits they wore throughout the show. They matched the themes of their songs and helped set the scene for what they were about to perform. I have so many favorite moments from the concert. From solo stages that showcased their individual talents and strengths, from the EDM-esque songs that led me to bump into the people around me, and especially their speeches. Three of the members are near fluent in English, so it was so nice to hear them talk to their international fans about how the pandemic affected them and their tours. All of the members love touring and performing live, and after leaving that show, it was beyond a doubt proven to me.
Below are some of my favorite photos that I took from the show.
You can listen to Monsta X here or on any music streaming platform.