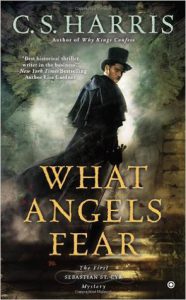 What Angels Fear by C.S. Harris
First line: She blamed the fog.
Summary: When a young woman is found murdered on the steps of Westminster Abbey all the signs point to the young viscount, Sebastian St. Cyr. In order to prove himself innocent he uses his skills gained from his time in his majesty's military as well as enlisting the help of his former mistress, Kat Boleyn.
Highlights: As a fan of historical fiction this has become one of my favorite mystery series. Sebastian is a smart and witty protagonist. The street urchin, Tom, is a great addition. He is fun and gives the reader a look into the darker underworld of the poor in London. I love that Sebastian is involved and cares about others unlike many of the people in the upper classes. I have read nearly all of this series so far and have even gotten my mother hooked on them as well.
The author does an amazing job of researching the time and drawing in historical figures. While reading this I can even connect it with the PBS show, Victoria, even though it happens about 25 years before her reign. In one of the most recent books we get introduced to Princess Charlotte who is the future wife of Uncle Leopold.
Lowlights: Sebastian may be a little too perfect. He knows a lot people and can handle about any situation. However, this can be said for most primary characters. It seems a little cheesy but it is easily overlooked because the story is so fun.
FYI: If you like this then try The Pink Carnation series by Lauren Willig. It is a female centered spy novel series that takes place during this time period.