Maame by Jessica George
"Accept that your life is different now because of this monumental, irreversible change and that it's okay to feel guilty one day and indescribable happiness another. This is life now. This is how you live."
― Jessica George, Maame
Summary: Maame (ma-meh) has many meanings in Twi but in my case, it means woman.
It is fair to say that Maddie's life in London is far from rewarding. With a mother who spends most of her time in Ghana (yet still somehow manages to be overbearing), Maddie is the primary caretaker for her father, who suffers from advanced-stage Parkinson's. At work, her boss is a nightmare, and Maddie is tired of always being the only Black person in every meeting.
When her mom returns from her latest trip to Ghana, Maddie leaps at the chance to get out of the family home and finally start living. She finds a flatshare, says yes to after-work drinks, pushes for more recognition in her career, and throws herself into the bewildering world of internet dating. But it is not long before tragedy strikes, forcing Maddie to face the true nature of her unconventional family.
Smart, funny, and deeply affecting, Jessica George's Maame deals with the themes of our time with humor and poignancy: from familial duty and racism to the complexity of love. Most importantly, it explores what it feels like to be torn between two homes and cultures, and it celebrates finally finding where you belong.
My Thoughts: Maddie is a very naive 25-year-old navigating the world as she has just moved out. Throughout the book, she is asking Google how she should handle all of these situations coming up in her life, and it is pretty hilarious. The author did a fantastic job portraying Maddie's emotions because it feels like you are experiencing this new world right along with her!
I was fully immersed and engaged in her life as she faced all her ups and downs. It is sad sometimes and sweet at others. The relationship between Maddie and her father is very moving and is written with empathy and love. You will want to yell at her mother and brother, whose selfish use of Maddie makes you so angry.
This is a book that takes you on a journey. It includes some difficult topics such as; grief, microaggressions, and depression, but does so really well and with sensitivity. I love the ending, or better yet, I love the whole book!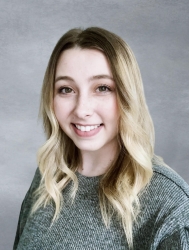 Latest posts by Monica Chancellor
(see all)