"We have people we get to keep, who won't ever let us go. And that's the most important part."
― Allison Larkin, The People We Keep
Summary:
April lives in a motor-less motor home that her father won in a poker game. Failing out of school and picking up shifts at Margo's diner, she is left fending for herself in a town where she has never quite felt at home. When she "borrows" her neighbor's car to perform at an open mic night, she realizes her life could be much bigger than where she came from. After a fight with her dad, April packs her stuff and leaves for good, setting off on a journey to find a life that is all hers.
As April moves through the world, meeting people who feel like home, she chronicles her life in the songs she writes and discovers that where she came from does not dictate who she has to be. This lyrical tale is for anyone who has ever yearned for a found family or belonging.
My Thoughts:
This is an emotional story, but it is sometimes problematic. I didn't find April likable in some parts of the book, so it was hard to agree with all of her decisions. She did grow on me, but it took a while. This book discusses April's relationships as a 16-year-old pretending that she is older. While the relationships were strange, they did add to the plot and help her character grow. 
As stated before, April eventually grew on me, and I felt for her and her situation. She meets some good people, and it is endearing to read. I found myself rooting for her by the end. While I felt that everything wrapped up a little too perfectly, I have to admit I did enjoy the journey overall.
*Spoiler Alert Below
This book follows an unplanned pregnancy trope, which can be difficult for some readers to get into. It happens about 75% into the story, and the rest of the book follows April as she navigates that challenge. I started this book in December of 2022 and stopped reading it at this point because I was disappointed in that story line. I do not like leaving books unfinished, so I did pick it back up. Although it is not what I would have liked for April, I was happy with the ending.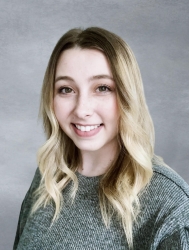 Latest posts by Monica Chancellor
(see all)