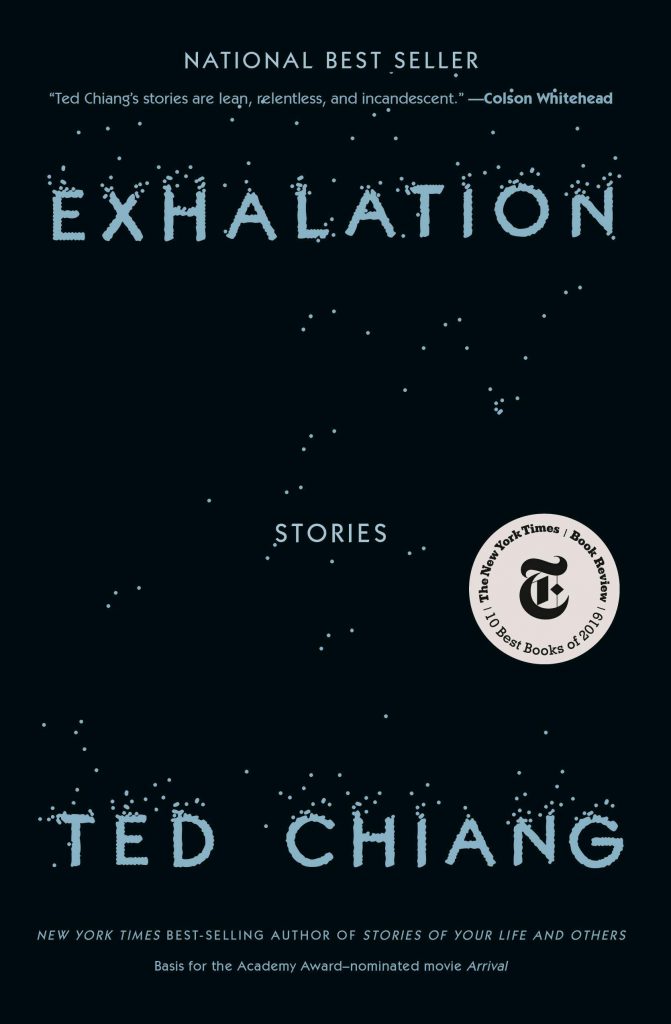 First line: O mighty Caliph and Commander of the Faithful, I am humbled to be in the splendor of your presence; a man can hope for no greater blessing as long as he lives.
Summary and Thoughts: In Exhalation, multiple short stories written by Ted Chiang either look at the future or even the past through futuristic lenses and technology. Morals and ethics are brought up in each story. The reader is taken to a magical place in the Middle East, a distant planet, and other dimensions throughout this book. From an old-age robot nanny to built-in memory hardware for humans, there's a short story for everyone. The first story takes a look at a young man's journey into a time-traveling portal where he learns that fate and what is meant to be can never be altered. The second story is about a civilization on a foreign planet whose lungs need to be physically taken out to be filled up with oxygen, meaning their life expectancy is practically immortal, but that also comes with a price. What happens when the oxygen supply is running out? The next one, 'What's Expected of Us', deals with the concept of free will with a button game and how it turns people mad when they think too hard about it. The fifth story is about a robot nanny who causes some trouble from humans, especially the inventor and his family. 'The Truth of Fact, The Truth of Feeling' is technically two stories alternating, but they both share the essential theme of memory. One half is set in the future, memory is now digitally stored in the human brain. One can now skim through old memories and relive or inspect them. The other half is set in with a native tribe and their journey with an English missionary. 'The Great Silence' is a haunting read as it's told from a near-extinct bird's thoughts. The story after that is a tale of religion and science co-existing together, but a religious archeologist is not so sure after a latest discovery. The last story is set in a world where it is easy to communicate with yourself in a different dimension. Of course, people use this to their advantage and not in a good way. Each story is different in length and in story-telling.
This was one of my favorite reads ever. Each story left me questioning my and society's relationship with technology. Each story was beautifully crafted and unique, writing styles and storytelling differed so it never felt like I was reading one book. Some parts I did have to re-read to get as he sometimes gets confusing when dealing with past, present, and future being told as one. I liked that this didn't feel like your typical science fiction book, so people who usually don't read this genre can enjoy it too. He also spends some time explaining the science behind certain products used in stories which I was grateful for. Chiang doesn't outright tell the reader what point he is trying to make so I often had to stop and ask myself what is he trying to say exactly. My favorite thing about this book is though the genre is science fiction, Chiang often sets his stories in the past. I like the blend of old and new he uses, to me it keeps the book from being repetitive. I would definitely recommend this book to people who read any type of genre.
FYI: There are sexual themes within one of the short stories but this isn't a graphic book.

Latest posts by Ashley Pohlenz
(see all)