The Five by Hallie Rubenhold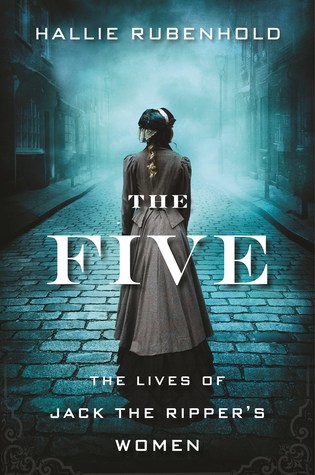 First line: There are two versions of the events of 1887. One is very well known, but the other is not.
Summary: Everyone has heard the story of Jack the Ripper. He haunted the streets of Whitechapel preying on women. His victims known as the canonical five are Polly, Annie, Elisabeth, Catherine and Mary Jane. His story has been researched and turned over hundreds of times but very little is actually known about the women whose lives he took. Here are their stories.
My Thoughts: I have recommended this book to anyone and everyone! I was completely engrossed in it. It is thoroughly researched and well written. It reads like fiction and is easy to get caught up in these women's lives. I found myself hoping for better outcomes as I read even though I knew how each of their stories was a going to end.
Rubenhold brings these women and the times that they lived to the forefront. Everyone thinks that they know the victims. They were prostitutes right? Wrong. Some were but not all five. Each has a story to tell. I could not believe the detail put into their narratives. Using housing records, census, interviews and newspaper reports we get fuller picture of their lives.
Sometimes we romanticize the Victorian time period but it was anything but ideal. People were barely able to care for their families. Housing was not always safe or healthy. Disease, alcoholism and poverty were prevalent. How people survived is astounding.
If you love history, true crime or biographies than this is perfect for you. It is full of information that will keep you reading until the very end.
FYI: There is very little mentioned about Jack the Ripper. This book focuses on the women only and the time that they lived.


Latest posts by Ashley Pohlenz
(see all)